IAF Student Competition
At the IAC E2 Symposium, the Student Conference, undergraduate and graduate students (no more than 28 years of age) present papers on any project in space sciences, industry or technology.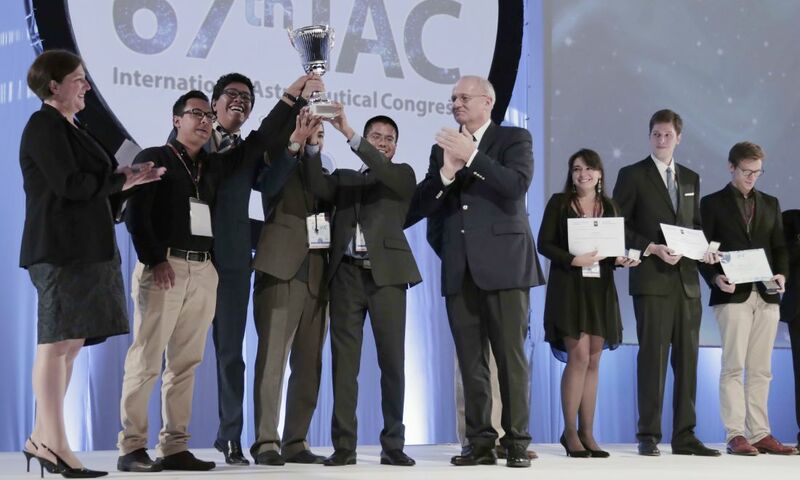 While Student Conference sessions E2.1 and E2.2 address students presenting papers that represent the specific work of no more than two students, the Student Team Competition (E2.3) addresses undergraduate and graduate level student teams papers which represent the work of three or more students.
All students presenting papers in the sessions E2.1 and E2.2 will compete in the student competition; students presenting in session E2.3 compete for the Hans von Muldau Team Award.
The guidelines for the student competition will be distributed from the session chairs to the authors after abstract acceptance.
The awards for the winners of the international student competition are sponsored by
Association Aéronautique et Astronautique de France (3AF)
British Interplanetary Society (BIS)
Deutsche Gesellschaft für Luft- und Raumfahrt – Lilienthal-Oberth e.V. (DGLR)
Internationaler Förderkreis für Raumfahrt (IFR)
2022 International Student Winners
Undergraduate Category
3AF Gold: Jorge Moreno, Universidad Politécnica de Madrid, Spain: 'Development of an Improved Random Positioning Machine to Simulate Organic Growth in Microgravity'
Hermann Oberth Silver – IFR: Sanmathi Priya Abiram Lakshmi Devi, Cornell University, USA: 'Harvesting Geothermal Energy on Mars for Future Settlement'
Graduate Category
Hermann Oberth Gold – IFR: Franco Maria Marchese and Claudio Rapisarda, Delft University of Technology, The Netherlands: 'Detailed Design and Verification of a Wave Spring Self-pressurized Tank for a Micro-resistojet Thruster'
3AF Silver: Brendon Cavainolo, University of Central Florida, USA: 'Simulating Melting-solidification of Lunar Regolith Particles Using Coupled CFD Methods'
British Interplanetary Society Prize for Best Technical Paper
Franco Maria Marchese and Claudio Rapisarda, Delft University of Technology, The Netherlands: 'Detailed Design and Verification of a Wave Spring Self-pressurized Tank for a Micro-resistojet Thruster'
Hans von Muldau Team Award for the Best Team Project
(Representative) Timothée Simon, ISAE-SUPAERO, France: 'Preliminary design of lunar vehicle for astronauts transportation'
French, German, US, British and Canadian students submitting abstracts for the sessions E2.1 and E2.2 should apply via the national coordinators: