Late Breaking News 1: Shenzhou – 9 Mission
3 October 2012, 8:00 – 08:45
During the first of the Congress' early morning Late Breaking News sessions on Wednesday (3 October), Liu Yang, the first Chinese woman in space, spoke about her mission and introduced a film showing highlights of the flight.
She said she was astonished by the beauty of Earth as seen from space, and that she was pleasantly surprised by the toy panda that had been left aboard Tiangong 1 by the ground crew.
An illustrated overview of the flight was given by Dr Zhaoyao Wang, Director of China's Manned Space Agency, covering mission planning and implementation.
He revealed that the Chinese space station is expected to be completed and fully operational around 2020 and said China intended to strengthen international exchange and cooperation in its future development and operation.
"During the operational phase, the Space Station will conduct long-term man-tended operations with the nominal status of three crew who will alternate every half year," he explained.
Dr Wang said that the construction phase would see intermittent visits and stays depending on mission requirements and that some EVAs would be performed.
There will also be a cargo re-supply ship sent up to the orbiting complex between one and two times a year.
Asked about the possibility of a second mission, Liu Yang said that flight schedules were closely connected with the country's development programme.
"The next mission will come soon, and whether I am selected or not, I am preparing all the time for the country's selection," she said.
As well as on-going training, Yang said part of her work now involved sharing her experiences with others who have yet to make a spaceflight.
Another crewed Chinese mission (Shenzhou 10) to Tiangong 1 is planned for next year but the officials with the Chinese delegation said a date for launch had not yet been announced.
Speaker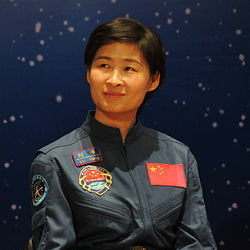 Yang LIU
shenzhou-9 astronaut

Zhaoyao WANG
Director, China's Manned Space Agency
China
Ming LI
Vice President, China Academy of Space Technology (CAST)
China