IAF/IAA/IISL Advisory Committee on History Activities (ACHA)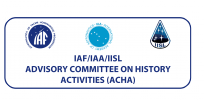 Committee Members  
Chair
• Tinjod Nathalie
Vice-Chair
• Narayanan Sunny
Members
• Almar Ivan
• Aloumi Ghaida
• Cannelli Selene
• Ciancone Michael L.
• Deependran B.
• Habteslasie Eden Abeselom
• Ho David
• Kazlouskaya Miraslava
• Khanal Ankit
• Matogawa Yasunori
• Mayor Iv
• Morita Yasuhiro
Objective/scope of the committee
The committee advises the IAF, IAA and IISL on desirable activities in the field of history of international space cooperation which could be pursued to help preserve and increase awareness of the history of international space cooperation, as well as the history of the three organisations.
The Committee identifies potential projects, possible tasks, means of execution (workshops, seminars or study groups) and of publication, scheduling and participants.
The proposal is forwarded to the IAF Bureau, IAA and/or IISL for decision and implementation. The committee assists the IAF, IAA and/or IISL in the realisation of any approved study project.
Committee rules for membership applications and renewal
Committee members are comprised of representatives from IAF member organisations, from the IAA and the IISL.
Members are nominated by the Chair, in consultation with the concerned IAF Vice-President and the IAA and IISL Presidents. The ACHA members are appointed by the IAF Bureau.
The Chair person is jointly agreed upon by the presidents.
The ACHA is a permanent committee and its members are appointed for a period of 2 years.
Symposiums/sessions and events at the iac
Regular symposia or IAC sessions are not foreseen. Any special event found viable in the frame of a study project would be recommended to the IAF Executive for implementation. Regular Committee meetings are being held during the IAF Spring Meetings and IAC.
Studies undertaken by the committee
The International Geophysical Year – Initiating international scientific co-operation, was completed in 2011 and IAF issued the study report in March 2012.