Industry Relations Committee (2021-2024)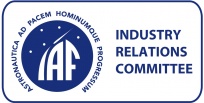 Committee Members  
Chair
Vice-chairs
Members
• BENITO RODRIGUEZ Irene
• BORIES Alain
• FOLEY Kevin
• LEWIS Aaron
• NAILARD Oliver
• PUTEAUX Maxime
• ROGERS Aaron Q.
• WAGNER John
Expert
Friend
Ex-officio
Objective/scope of the committee
The Industry Relations Committee, as an IAF administrative Committee, supports the Federation in all activities related to the space industry sector.
The Committee's main activities are:
To organize the Industry Day during the IAC, with dedicated Plenaries, GNFs and networking opportunities;
To keep relations with all stakeholders, part of the industry space sector;
To promote and share the space industry needs for the short, medium and long-term activities in order to support new idea and contribute to the economic growth of this sector.
Committee rules for membership applications and renewal
In compliance with the IAF Constitution and Bylaws, membership to the Industry Relations Committee is open to any candidate from an IAF member organization, who has distinguished himself/herself as an active participant in its business. There is no limit number of members, nevertheless the IAF must reflect a well-balanced generational, gender and geographical representation, avoiding an overrepresentation of certain regions, and a fair representation of members who belong to large, medium or small companies. Application to membership should be submitted to the IRC Chair who will nominate the candidate for appointment at the next meeting of the Committee. The membership is for a three years term, renewable once.
Symposiums/sessions and events at the IAC
The Industry Relations Committee organizes an Industry Day at each IAC, giving Industry members of the IAF a forum for an open and intensive exchange on the latest development in their respective sectors, and to foster international cooperation. Each year the event gathers high-level officials, executive representatives and experts as well as a wide audience to its multiple events.
Other committee activities
During the Industry Day also takes place the award ceremony for the newly created IAF Excellence in Industry Awards. The IAF jointly with the IRC awards a worldwide industry organization recognized across global space community for outstanding and sustainable advancements in commercial and civil space.
IAF Excellence in Industry Award
The Committee, among the different events held on that day, organizes an Industry breakfast and an Industry lunch at the Congress venue, with the contribution of IAF, the LOC and sponsors.