Industry Relations Committee (2021-2024)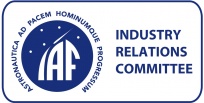 Committee Members  
Chair
Vice-chairs
Chair of the Small and Medium Enterprises Subcommittee
Members
• BENITO RODRIGUEZ Irene
• BORIES Alain
• FOLEY Kevin
• HOPKINS Jason
• LEWIS Aaron
• LU Dong
• NAILARD Oliver
• PUTEAUX Maxime
• ROGERS Aaron Q.
• SAMPSON Melissa
• SMITH Lauren
Friend
Ex-officio
Objective/scope of the committee
The Industry Relations Committee (IRC) is established in agreement with the general terms of reference for administrative committees of the IAF Bylaws.
The IRC provides specialized advice and recommendations to the IAF on all matters related to the space industry sector. In particular, the IRC represents:
A platform to discuss global space market growth and opportunities,
A working group to promote technology development and applications in civil, commercial and global security,
A forum to exchange on international industrial space policy interests.
Committee rules for membership
In compliance with the IAF Constitution and Bylaws, membership to the Industry Relations Committee is open to any candidate from an IAF industrial member organization, who has distinguished himself/herself as an active participant in its business. There is no limit to the number of members; nevertheless, the Committee shall reflect a well-balanced generational, gender and geographical representation, avoiding an overrepresentation of certain regions and a fair representation of members who belong to large, medium or small companies.
Application to membership should be submitted to the IRC Chair who will nominate the candidate for appointment at the next meeting of the Committee. Each company is represented by one, official, member that has voting rights.
Activities
The IRC main activities are:
To organize the Industry Day during the IAC, with dedicated Plenaries, GNFs and networking opportunities.
To keep relations with all the stakeholders of the industry space sector,
To promote and share the space industry needs for short, medium and long-term activities in order to support new ideas and contribute to the economic growth of this sector,
To organize events aimed at supporting industrial development,
To coordinate, select and deliver the annual IAF Excellence in Industry Awards
To issue position papers and assist the IAF in industrial outreach outside the IAC
To organizes an Industry breakfast and an Industry lunch at the Congress venue, with the contribution of IAF, the LOC and sponsors.
IAF Excellence in Industry Award
The IAF Excellence in Industry Award is intended to distinguish commercial industry organizations, members or non-members of the IAF, worldwide for introducing innovative space technologies to the global marketplace and is recognized throughout space industry for successfully executing a landmark space mission.
IAF Excellence in Industry Award
IRC White Paper
During the year 2023, the IAF Industry Relations Committee worked on a white paper titled "On the scarcity of workforce in aerospace industries. Roadmap to better attract tomorrow's talents". This paper undertakes a comprehensive review of the current state of affairs in the aerospace industry. It analyzes the potential factors contributing to a widespread workforce shortage, assesses the measures already in place to mitigate this issue, and presents a set of recommendations aimed at guiding the industry on how to best support talent recruitment and retention in the future. The white paper has been approved by the IAF Bureau during the IAC 2023, in Baku.