Space Societies Committee (SSC) (2018-2021)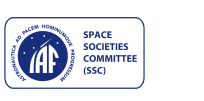 Committee Members  
Chair
• BUIST Peter
Vice-chair
Members
• BESCOND Pierre
• FEAST Simon
• GIULICCHI Luisella
• GUNN Danielle
• NAMANE Thongwane
• PEDERSEN Lykke
• SCOTT Alistair
• RUSSO Pedro
• JIKEME Reube
• SOUAMI Damya
• TESFAYE Beza
• VALENCIA Sebastian
• ELLIS Wayne
Experts
• HATTON Scott
• NYE Bill
• SANTORO Luisa
• VOLP Jim
Friends
• PAULY Andrew
Ex-officio
• Werner R. BALOGH
Objective/scope of the committee
The Space Societies Committee is a permanent administrative committee of the IAF. It was established in 2007 as a platform for all IAF member societies.
The Space Societies Committee aims are to:
enhance bi-directional communication on space matters through the channels of the space societies
promote and help new space societies, in particular in emerging space nations, to be created and to become member of IAF
exchange practices, tools, communication and educational material amongst space societies
be a backbone for the IAF for communication with a large fraction of its members.
These aims underline the importance of the space societies, who, in terms of numbers, constitute one of the largest categories of IAF members.
As a recent initiative, the Space Societies Committee successfully promoted space museums to be eligible for IAF membership.
Committee rules for membership applications and renewal
As per the constitution of the IAF, membership of the Space Societies Committee is open to any member of the Federation. However, in view of its scope and objective, predominantly members represent professional societies. In addition, several experts are invited as member based on their expertise or knowledge of IAF activities that are relevant for societies.
Applications of membership should be submitted to the Chair of the Space Societies Committee who in general will nominate the candidate for appointment at the next meeting of the Committee. There are no specific criteria for membership over and above those mentioned in the constitution of the IAF and the General Terms of Reference for administrative committees of the IAF. However, active participation in the activities of the Committee is expected.
As per the General Terms of Reference for administrative committees, membership of the Space Societies Committees is nominally for a three year term, once renewable.
Symposiums/sessions and events at the iac
The Space Societies Committee organised a session on Space Societies and Museums (E5.6) for the first time at the IAC in Beijing, 2013. The Committee also organised a Global Networking Forum event on the Power of Social Media to promote space.
Other committee activities
At several IACs the Space Societies Committee has organised events dedicated to gathering attention to the benefits of IAF membership for emerging Space Societies, and the role of the Space Societies to further the objectives of the Federation.