Technical Activities Committee (TAC)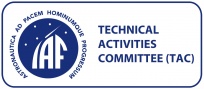 Committee Members  
Chair
Members
• BERNELLI-ZAZZERA Franco
• COURT Andrew
• FAUCHER Pascal
• FOLEY Kevin
• GALARRETA Daniel
• GIORGIO Vincenzo
• LIEPACK Otfrid
• LOLLOCK Rita
• PRINCE Jill
• RETTBERG Petra
• SANTORO Francesco
• SARAH Maria-Gabriella
• VAZE Parag
Objective/scope of the committee
The Committee is a forum to develop the general guidelines for the IAF Technical Committees and monitor, evaluate and assess their performance with regard to the General Terms of Reference for Technical Committees.
The Committee is a forum for IAF, IAA and IISL to collaborate, to optimise the contents of the International Astronautical Congress and reduce overlap/interference among Symposia and Sessions.
Committee rules for membership applications and renewal
The Committee is chaired by the Vice-President of IAF in charge of Technical Activities. Technical Committee Chairs automatically becomes members of the Committee.
IAA Commission Chairs and a representative of IISL are also invited to meetings.
Other committee activities
Committee meets twice in a year, during the IAC and the IAF Spring Meetings in March in Paris.