Committee for the Cultural Utilisation of Space (ITACCUS)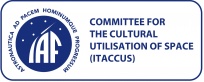 Committee Members  
Chair
Vice-chairs
• Pell Sarah Jane
Members
• Autino Adriano V.
• Brandić Lipińska Monika
• Clar Richard
• Hatton Scott
• Losier Marlene
• Malina Roger
• McPhee Jancy
Friends
Experts
• Antlej Kaja
• Borges Fabiane
• Miah Andy
Objective/scope of the committee
The Committee for the Cultural Utilisation of Space (ITACCUS) seeks to promote and facilitate the innovative utilisation of space (data, systems, applications) by organisations in the cultural sectors of society internationally, including all areas of the arts and humanities, including the fine arts, entertainment, popular culture and tourism.
In a cultural context, it may include cultural production, cultural preservation, cultural representation, cultural education and cultural development.
ITACCUS' activities comprise:
Advocacy – promoting, developing and raising the profile and quality of 'cultural utilisation of space' within the space community and within the cultural community internationally, and with the general public
Collaboration – organising meetings and workshops internationally.
Communication & Dialogue
Knowledge Hub
Promoting Quality Cultural Products
Committee rules for membership applications and renewal
ITACCUS will consist of liaisons from:
Space organisations (agencies, industries, NGOs, educational and research Institutions)
Cultural organisations (presenting organisations, museums and galleries, non-profit cultural organisations, for-profit cultural organisations, educational and research Institutions).
Individuals serving on ITACCUS serve as liaisons to their organisations, not as representatives.
Symposiums/sessions at the iac
ITACCUS has sponsored and co-sponsored the following sessions at the IAC:
'Less Remote' symposium at the 59th International Astronautical Congress in Glasgow in 2008.
'Water from Space: Societal, Educational and Cultural Aspects' at the 61st International Astronautical Congress in Prague in 2010. This was a joint session between the IAF Space Education and Outreach Commitee (SEOC) and the IAA Commission VI.
'Space as an Artistic Medium' was co-sponsored by ITACCUS at the 63rd International Astronautical Congress in Naples in 2012.
Technical meetings or events outside of the iac
ITACCUS has endorsed the following projects:
'Republic of the Moon' a major European touring exhibition which opened at FACT, Liverpool, UK, in 2011. The curators of the exhibition include Rob La Frenais, The Arts Catalyst, and Mike Stubbs, FACT.
'KOSMICA' is a regular series of social galactic gatherings bringing together those interested in sharing cultural ideas about space. This series is organised by The Arts Catalyst and Nahum.
'Free Enterprise: The Art of Citizen Space Exploration' is a contemporary art exhibition in the U.S. to explore implications of civilian space travel which represents a major political and cultural shift away from sponsorship by the federal government and toward a free-market, private enterprise model. This exhibition is curated by Tyler Stallings and Marko Peljhan.
'Ulises I, Mexican Space Collective' which involves the artists building a satellite and launching it into space, after which it will play a series of artistic experiments and also making the satellite a musical instrument. The project is directed by Juan Jose Diaz Infante.
'Humans in Space Youth Art Competition'. A competition that encourages youth to "Be Inspired, Creative and Heard." It asks them to think about the future of human space flight and to creatively communicate their ideas, and the competition promise to make these ideas viewable worldwide. The director of the competition is Jancy McPhee.
'Visible Thinking' is an Initiative for Emerging Achievers and Leaders in Space related Sciences. This initiative is coordinated by Adrian S Meyer.