Earth Observations Committee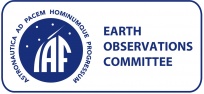 Committee Members  
Chair
Vice-chair
• Ferreira Luis
Members
• Azelton Krystal
• Becker Kate
• Boening Carmen
• Bussolino Luigi
• Gavira Izquierdo José
• Gleyzes Alain
• Hussey John
• Le Goff Roland
• Louw Ana-Mia
• Nassisi Annamaria
• Maman Shimrit
• Morten Olsen Ole
• Preud'homme Frank
• Rathgeber Wolfgang
• Schmullius Christiane
• van der Togt Oana
• Vaze Parag
• Vernile Alessandra
• Wooldridge Charles
• Xiaoli Chen
• Yao Na
• Zenou Emmanuel
Objective/scope of the committee
The Earth Observation Committee covers all aspects of Earth observations from space, especially observations related to the Earth's environment and including mission planning, microwave and optical sensors and technologies, systems for land, oceanographic, and atmospheric applications, ground data-processing.
Committee rules for membership applications and renewal
Committee member renewal is discussed on a yearly basis. New candidatures are voted/selected during the Earth Observation Committee meetings.
Symposiums/sessions at the iac
Earth Observation Symposium (B1) including 6 classical sessions and 1 poster session:
B1.1 International Cooperation in Earth Observation Missions
B1.2 Future Earth Observation Systems
B1.3 Earth Observation Sensors and Technology
B1.4 Earth Observation Data Management Systems
B1.5 Earth Observation Applications and Economic Benefits
B1.6 Earth Observation topic of the Year (the theme is different each year and selected by the Committee)
Technical meetings or events outside of the iac
Yearly Earth Observation Technical Committee Meeting