Enterprise Risk Management Committee (ERMC) (2018-2021)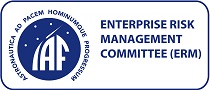 Committee Members  
Chair
Vice-chairs
Suess, Ruediger
Tung, Helen
Secretary
Members
Bank, Cristian
Canga, Michael
de Angelis, Massimo
Feng, Dong
Greenstone, Adam
Legai, Pascal
Sato, Kazunao
Seward, Elizabeth
Turner, John
Vales, Marc
Van Beekhuizen, Pieter
Friends
Bernelin, Marie-Christine
Khamees, Rania
Long, Nathanial
Sliwinski, Alina
Objective/scope of the committee
Enterprise Risk Management is "a process, effected by an entity's board of directors, management and other personnel, applied in strategy setting and across the enterprise, designed to identify potential events that may affect the entity, and manage risk to be within its risk appetite, to provide reasonable assurance regarding the achievement of entity objectives".
Taking into account today's economic and industrial challenges, it is quite clear that, to conduct space activities, efficient management of resources through a sound understanding of inherent risks represent a major instrument to ensure success in activities.
The Committee will:
promote ERM implementation, by facilitating discussions on best practices and lessons learned
provide a cooperative forum for discussions among public and private organisations.
work supportively to assist in solving ERM peers issues,
Exchange ideas, methods, and experiences to enhance the ERM practice of ERM within the aerospace community
Propose and promote the adoption or adaptation, if required, of standards in Enterprise Risk Management (e.g. ISO, ECSS).
Symposiums/sessions at the iac
Session E6.4 Strategic Risk Management for successful space & defence programmes
Co-Chairs:
Rüdiger Süß
Maria-Gabriella Sarah