Entrepreneurship and Investment Committee (EIC) (2018-2021)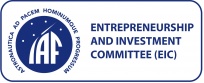 Committee Members  
Members
Aprea, Julio
Bearden, David
Belingheri, Paola
Boucher, Marc
Charania, A.C.
Chatterjee, Joyeeta
Cheetham, Brad
Christensen, Ian
Comstock, Douglas
Culton, John
Danos, George
Fischer, Rolf-Dieter
Giulicchi, Luisella
Gouy, Yann
Gustetic, Jennifer
Hazane, Philippe
Keravala, James
Kreisel, Joerg
Kunes, Michal
La Bonté, Lisa
Lauer, Charles
Lendway, Elisabeth Zoi
Lenoir, Benjamin
Martin, Gary
Messina, Piero
Medina, José
Mowry, Clayton
Olson, Thomas
Onuki, Misuzu
O'Sullivan, Sinead
Raposo, Ana
Sallaberger, Christian
Scatteia, Luigi
Seward, Elizabeth
Shar, Manny
Stelmakh-Drescher, Olga
Stepanova, Olga
Svoboda, Jan
Tabasco Vargas, Sergio
Tung, Helen
Wang, Dapeng
Wolfson, Nancy C.
Friends
Aldrich, Eleanor
Harrington, Andrea
Hubbard, Scott
Jolly, Claire
Jordan, Nicole
Phang, Monica
Pittman, Bruce
Sarah, Maria-Gabriella
Stone, Dennis
Objective/scope of the committee
The Entrepreneurship and Investment Committee (EIC), inaugurated in 2007, promotes dialogue among entrepreneurs, established companies, government, and academia, focusing on encouragement of economic innovation and attraction of private investment. By 2012, the Committee should be established as a recognised global clearinghouse for dialogue concerning these subjects. By 2027, the EIC should be generating ideas and inspiring initiatives in various regions around the world that concretely contribute to technology-driven economic growth.
Committee rules for membership applications and renewal
An EIC member submits a member-candidate's name, along with a brief CV of the candidate, to the EIC chair.
The Chair will forward the name and CV to other EIC members.
Current EIC members will be given an appropriate amount of time to review and provide comment on the candidature.
At the end of the allotted time, the EIC Chair will call for an informal vote by the current members for acceptance of the candidate-member.
Results of the vote will be recorded and the appropriate letter will be sent to the candidate immediately afterward.
Symposiums/sessions at the iac
E 6: BUSINESS INNOVATION SYMPOSIUM (including technical Sessions E 6.1, E 6.2, E 6.3)
The symposium will address creative business approaches to serving government and private sector customers, as well as government options for encouraging this activity. The symposium will address the general role of government in encouraging space industry applications, new business models in traditional space industry applications (e.g. satellite-based services involving Earth observation, navigation and communications), and new space industry applications (e.g., space tourism, space-industrialisation, space resource utilisation).
Coordinator: Ken Davidian, Federal Aviation Administration Office of Commercial Space Transportation (FAA/AST), United States
Technical meetings or events outside of the iac
EIC Meeting at IAF Spring Meetings in Paris, March 2013.
Studies undertaken by the committee
The Committee plans to be involved with a proposed IAA study entitled "Public/Private Human Access to Space – Volume 2: Earth Orbit and Beyond".
Other committee activities
"Space Is Business" Paper-Writing Competition in conjunction with the Space Generation Advisory Council (SGAC).