Space Education and Outreach Committee (SEOC) (2018-2021)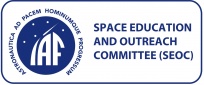 Committee Members  
Chair
Vice-chairs
• Schmidt Marco
Secretary
Members
• Afful Andoh Michael
• Amekrane Rachid
• Bai Ruixue
• Bernelli-Zazzera Franco
• Bertolacci Luca
• Bloschock Kristen
• Casasanto Valerie Anne
• Christie Ian
• Diaz Phillips Angela
• Diez Hubert
• Dougherty Kerrie
• Duarte Carlos
• Gleeson Mark
• Gonzalez Yvette Marie
• Hoffman Edward J.
• Isloor Natasha
• Kretzenbacher Michael
• Lebeuf Martin
• Lee Jeong-Won
• Malina Roger
• Marйe Hugo
• Mendes Michelle
• Nicollier Claude
• Pakakis Michael
• Sasaki Kaori
• Zenou Emmanuel
Ex-officio
Friends
• Becker Francois
• Berenguer Yolanda
• Blanding Katie
• Brock Stephen
• Brumfitt Anne Elisabeth
• Buckland Rodney A.
• Cardenas Jefferey
• Cavaliere Federico
• Chaffardon Christophe
• Dana-Picard Thierry
• De Chiara Vincenzo
• De Oliveira Fabiola
• Dessimoz Jean-Daniel
• Du Shanyi
• Farrow John
• Gao Fuwen
• Gehlert Sylvia
• Grinberg Anna
• Guidi Andrea
• Hirani Jayesh
• Hjalmar Hansen Arne
• Holze Carsten
• Hopf – Gregorek Carol
• Wood Barbara J.
• James George
• Jukola Paivi
• Julius Dasch E.
• Kittell Kirk
• Legault Christyne
• Liebermann Randy
• Lyagushyn Sergiy
• Malyshev Veniamin V.
• Marchetti Mario
• Matogawa Yasunori
• Matthews Mabel J.
• Min Zhao
• Moses Roger T.
• NYE Bill
• Omarova Gulnara T.
• Page Talia
• Pillet Nicolas
• Pirard Theo
• Pryke Ian
• Raitt David
• Steinberg Marilyn
• Stofan James L.
• Thompson Lachlan
• Vallerani Ernesto
• Volp Jim
• Whitesides J.L.
• Willekens Philippe
• Winterton Joyce
• Wood Peter
• Yang Shih-Ming
Experts
• Antoniadis Lis
Objective/scope of the committee
The Space Education and Outreach Committee (SEOC) was created to:
Promote development and delivery of quality educational programs and learning opportunities in the space sector
Advocate for the development and delivery of quality STEAM (Science ,Technology, Engineering, Arts, Math) Outreach programs based on space activities
Engage with students participating in IAF activities, and develop dedicated programming as part of IAF activities for them
Acknowledge and recognize innovative educators, and students involved in the space sector
The committee achieved these goals through a series of Symposia organized as part of the International Astronautical Congress, a series of activities during IAC and a series of awards. It also collaborates closely with other IAF committees and external organizations focused on students and young professionals.
Committee rules for membership applications and renewal
SEOC leadership consists of one Chair and five Vice-Chairs (E1 Symposium, E2 Student Conference, Outreach, Workforce Development, and Communications) as well as a Secretary position held by members who serve three year terms and may be re-elected for one additional three-year term.
Members of the committee are individuals belonging to IAF Member organizations who apply for membership as per the process below. Committee members should actively contribute to the committees activities.
The committee also considered the appointment of experts who are individuals affiliated with organizations that are not IAF members and but nonetheless resonate well with SEOC goals, objectives, and activities. Experts can maintain their expert status with the committee for a 3 year term.
Often SEOC members may experience career changes that prohibit them from having the time and/or the resources to make active contributions to SEOC. Nonetheless, these individuals would like to stay in touch with the committee and can request to be a member of the SEOC established "Friends of SEOC" for future connection to the group.
To be considered for SEOC membership, an individual must:
Arrange to attend at least two SEOC meetings as an observer (in person or remotely) so that s/he can become familiar with the activities of the committee and identify areas of their interest that will contribute to their active membership. This can be done by contacting seoc-info@iaf.org.
Secure the support of two existing SEOC members
Complete the SEOC membership form and submit it alongside their CV to seoc-info@iaf.org at least two weeks before the committee meeting at which their membership will be considered.
Identify an area where they would like to contribute to after membership.
Membership in the committee is decided by a vote at a committee meeting. Following SEOC approval, the new members are nominated by the SEOC Chair and the Vice-President for Technical Activities and appointed by the IAF Bureau.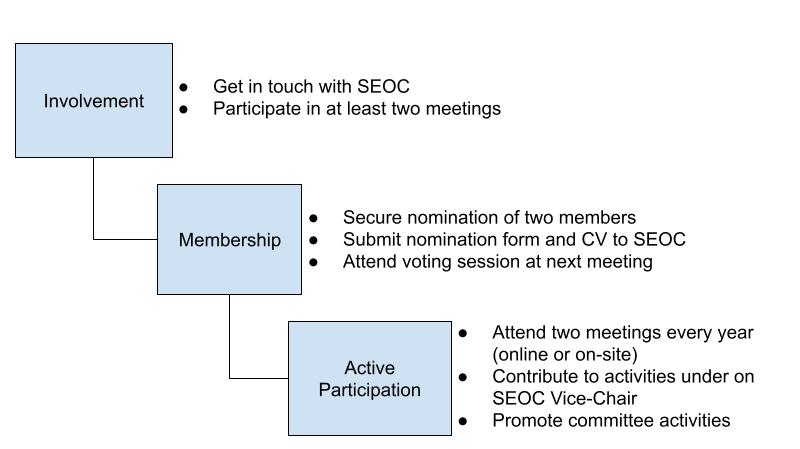 SEOC Activities
IAC SYMPOSIA
SEOC organizes and conducts the E1 Symposium on Space Education and Outreach, and the E2 Symposium - Student Conference at the International Astronautical Congress.
E1 Symposium on Space Education and Outreach
The E1 Symposium focuses on activities, methods, and techniques for formal and informal space education at different educational levels, space outreach to the general public, innovative methods for creating public awareness and enthusiasm for space, and space workforce development. The Symposium has ten technical sessions, and SEOC solicits papers that have distinct education and outreach content, that clearly identify target groups, articulate the benefits, lessons learned, and good practices, showcase pioneering methods, and measure effectiveness through critical assessment. SEOC members are urged to participate in the abstract selection in March each year for one or several technical sessions and to shape the IAC by undertaking chair's or rapporteur's responsibilities.
The technical session on Workforce Development are co-organized by SEOC and the Workforce Development/Young Professional Programme Committee (WD/YPP) and the International Project/Programme Management Committee (IPMC).
E2 Symposium - Student Conference
The E2 Student Conference is a forum for the presentation of space-related papers by undergraduate and graduate students through participation in an international student competition. The Conference currently has three technical sessions: two of the sessions form a single competition that allows up to one undergraduate student and one graduate student from each country to present their work to a jury of SEOC members and other IAF members to compete to win one of the IAF student paper awards. The third session is the Student Team Competition in which students presenting in this session compete for the Hans von Muldau Team Award.
SEOC often arranges a number of special sessions in coordination with other IAF committees such as the activities with the Space Universities Administrative Committee (SUAC), and notably the Next Generation Plenaries involving students and young professionals with the WD/YPP Committee, and others such as the Space Operations Committee, and the Subcommittee on the Global Earth Observation System of Systems (GEOSS).
TECHNICAL MEETINGS, Events and Workshops
Since 2004, SEOC has held annual strategy and business meetings during the IAF Spring Meetings in Paris and also at the International Aeronautical Congress each fall to review its objectives and initiate or reorient its future activities as needed to meet its objectives.
Several other activities are accomplished through SEOC collaborations with other entities, for example, with the International Space Education Board to ensure the delivery of a complimentary student program and funded participation of students from Canada, Europe, Japan, the United States and other countries at the IACs.
SEOC has developed and conducted two IAF Educator Professional Development Programme workshops to engage primary and secondary school educators in learning-specific activities including workshop and panel sessions appended to the IAC to complement the Congress' professional presentations and technical sessions.
SEOC also participates in the selection process for the speakers of the Next Generation Plenary. This unique plenary session of the International Astronautical Congress offers opportunities for students and young professionals to address and influence the international space community.
Awards and Grant Programmes
SEOC is responsible for awarding, either on its own or in conjunction with other bodies, a number of honors and awards. These include:
The Frank J. Malina Astronautics Medal which is presented annually to an educator who has demonstrated excellence in taking the fullest advantage of the resources available to him/her to promote the student of astronautics and related space sciences.
The Luigi G. Napolitano Award which is presented annually to a young scientist (below 30 years of age) who contributed significantly to the advancement of the aerospace science and gives a paper on this contribution at the IAC.
The IAF Student Awards recognizes the best papers presented by students at the IAC in the undergraduate, graduate and student team categories.
In addition, SEOC members participated in the development of the Emerging Space Leaders (ESL) Grant Programme, and SEOC members chair and participate in the ESL Selection Committee. The SEOC Chair is a member of the ESL Steering Committee which reviews and takes action on these recommendations. SEOC participates in the integration of the grant recipients into the student and young professional activities at the IAC.
SEOC participated in the development of the Young Space Leaders (YSL) Recognition Programme which was approved in 2012. The SEOC Chair participates in the YSL Selection Committee.