Space Exploration Committee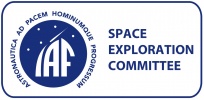 Committee Members  
Chair
Vice-chairs
• Patel Keyur
Members
• Arnold Steven
• Cockrell Charles
• Ghafoor Nadeem
• Haese Marc
• Joumel Pierre-Alexis
• Ju Gwanghyeok
• Kawaguchi Junichiro
• Kirkham Gilbert
• MAY Lisa
• Rayman Marc D.
Friends
• Diez Shana
• Lavagna Michelle
Objective/scope of committee
The Committee deals with both robotic and human spacecraft missions for space exploration in general and solar system exploration in particular. This includes the design of exploratory spacecraft and their trajectories, mission design and operations, and the science payloads for these missions. This also includes all aspects of radio science and in-situ and remote sensing science using interplanetary spacecraft, earth satellites, space stations and lunar and Mars bases.
The Committee shall deal with the entire temporal spectrum of exploration missions from advanced concepts through the actual conduct of missions and their results.
The Committee shall have a particular interest in Space Exploration associated with astrobiology and fundamental physics.
The Committee should particularly cooperate with the IAF and the IAA committees on Space Systems, Astrodynamics, Earth Observations, Power, Propulsion, Space Transportation and Space Station.