Space Transportation Committee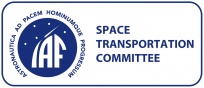 Committee Members  
Chair
Vice-chairs
• Kendall Randy L.
Members
• Aso Shigeru
• Augelli Mauro
• Belokonov Igor V.
• Bérend Nicolas
• Buechner da Costa Tina
• Bussolino Luigi
• Chaize Mathieu
• Cockrell Jr. Charles E.
• Cook Jerry
• Cook Stephan A.
• Creech Steve
• de Matteis Pier Paolo
• Faulconer Walter
• Gavira Izquierdo José
• Gerard Yves
• Glass David E.
• Harr Jon
• Hiraiwa Tetsuo
• Huebner Lawrence D.
• Kiang Charlotte
• Kobald Mario
• Kunz Oliver
• Larcombe Nick
• Yanqian Liang
• Maddock Christie
• Mansouri Jamila
• McCammon Daniel
• Mihara Yorichika
• Molas-Roca Pau
• Morris K. Bruce
• Nakanishi Hidemasa
• Narayanan Sunny
• Nonaka Satoshi
• Ogasawara Ko
• Palmnäs Ulf
• Pardo Johanna
• Pinier Jeremy
• Rennie Patrick
• Roviera Pier Michele
• Rufolo Giuseppe
• Ruhhammer Florian
• Russo Gennaro
• Santoro Francesco
• Schmierer Christian
• SHEN Lin
• Sippel Martin
• Skolmli Jan
• Smith Bryan
• Staudt Markus
• Stenovec Gerald M.
• Storozh Alexander D.
• Sundaram Ramakrishnan
• Taponier Vincent
• Tumino Giorgio
• Viola Nicole
• Weaver Aaron
• Wiedemann Josef
• Yamashiro Ryoma
Friends
• Aldrin Andrew
• Esposito Andrea
Experts
• Silva Melo Michele Cristina
Objective/scope of the committee
The Space Transportation Committee activities address space transportation solutions and innovations worldwide. Its goal is to foster understanding and cooperation amongst the world's space-faring organisations.
The corresponding activities are devoted to different types of space transportation missions, systems (launch vehicle system and/or the propulsion stages, expendable or reusable, manned or unmanned) and to their safety and support operations.
Committee rules for membership applications and renewal
The members represent a wide span of worldwide organisations; the membership should be equilibrated among the various countries.
To that effect, new members are elected by present members during one of the two yearly meetings of the Committee after presenting themselves with a short biography.
Membership shall be effective: if a member never participates in the Committee meetings, its departure from the Committee may be proposed by the members.
The Committee members designate two Coordinators among them; tradition to have one US Coordinator associated with one non-US one has proven so far to be efficient. Coordinators serve for a 4 year period, 2 years separating their two nominations. They can be re-selected for other terms if the members decide to.
The Chairmen and Rapporteurs for the various sessions of up-coming congresses are exclusively chosen among the Committee members in order to guarantee some continuity in action from year to year; they shall be selected trying to represent harmoniously the diversity of the Committee.
Symposiums/sessions at the iac
D2.1. Launch Vehicles in Service or in Development
D2.2. Launch Services, Missions, Operations and Facilities
D2.3. Upper Stages, Space Transfer, Entry and Landing Systems
D2.4. Future Space Transportation Systems
D2.5. Future Space Transportation Systems Technologies
D2.6. Future Space Transportation Systems Verification and In-Flight Experimentation
D2.7: Small Launchers: Concepts and Operations
D2.8. Joint Session on Going To and Beyond the Earth-Moon System: Human Missions to Mars, Libration Points and NEO's (Joint Session with A5.4)
D2.9: Thematic session, reviewed annually in consideration of the IAC's location.
In 2013: Solutions for Human Flights in China (co-sponsored by IAA Commission III)
Technical meetings or events outside of the iac
Two meetings per year:
one on the Sunday prior to the IAC
one during the IAF Spring meeting
Corresponding Minutes of Meeting available on the IAF web site
Other committee activities
Exchange of information among the members all year long.