IAF EXCELLENCE IN 3G DIVERSITY AWARD 2021 RECIPIENTS (CATEGORY B)
This "IAF Excellence in 3G Diversity Award" is intended to recognize IAF member organisations (industry, government, academia) worldwide for outstanding contributions to the fostering of "3G" (Geography, Generation, Gender) Diversity within the space sector. It is an annual award presented at the IAC, but is given only when nominations of exceptional merit are received.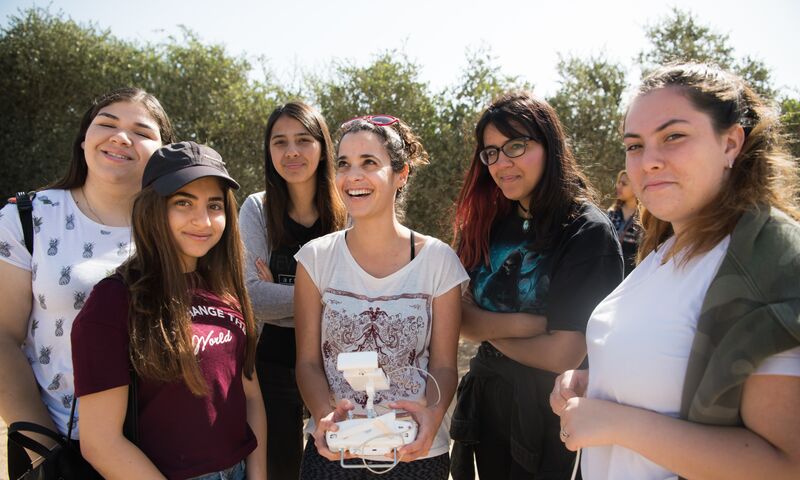 EPIF Academic Team
Through their ongoing She Space and She Space International programs, the EPIF team demonstrated remarkable commitment to increasing diversity in space science along all 3 "G's". With their focus on the mentorship of high school-aged girls by active female researchers and academics, the She Space programs simultaneously address the gender and generational equality aspects of "3G" diversity. The all-female project staff act as role models for the next generation of female space scientists; providing She Space students with a concrete overview of careers in space science, encouraging them to dream and to follow these role models ("If you can see it, you can be it.").
The She Space program was originally founded in 2017 as a local program targeted to Be'er Sheva and surrounding Negev regions. To this day, it is a collaboration between EPIF at Ben-Gurion University and the Beit Yatziv Educational Community Center in Be'er Sheva. Although the program continues to ensure that there are local participants every year, the program has also expanded its reach by inviting students from all over Israel and, more remarkably, by developing even further, from 2018 to the present, into the fully international She Space International Program.
The 2021 iteration of She Space International includes research teams from 8 countries (Brazil, Germany, Israel, Peru, S. Korea, Spain, Togo, and the United States). In each country, teams of high school-age students use relevant space-based technology to actively research a question related to climate change in their home country. The students select the research question, design the research methods, and present and share results with one another. A member of this year's She Space and She Space International staff, Dr. Lonia Friedlander, commented, "This is how you build an international research team that can compare local results with one another. By combining their individual projects and sharing results, the larger team will be able to tie local effects to the global climate change processes, which will soon affect us all."
After receiving word of the team's selection for the 2021 Award, the EPIF team leader for the She Space programs, Dr. Shimrit Maman, expressed her gratitude for the Award and her hope that the attention it engenders will encourage others to take responsibility for increasing diversity in the space sciences. "It is all of our collective responsibility, irrespective of age, gender, or geographic location, to work together and make use of every available space-based technology to tackle global climate change to the best of our abilities." Describing the project's hoped-for and long-term outcomes, Dr. Maman continued, "This flagship project allows young women to participate in cutting-edge research, to utilize advanced space-based technologies with real-world research applications, and to build research collaborations and social connections that transcend international boundaries and borders." And fully recognizing that this a team effort and a team award, she added further, "I am proud of every member of the She Space and She Space International staff that participated or currently participates in the project and I am proud of all of our student participants; both in Israel and globally. I am also deeply grateful for our selection. My hope is that that the attention paid to this Award will help others to also begin working to address some of the same issues of diversity and climate change readiness that She Space and She Space International were designed to tackle."
The 2021 Award will be presented to Dr. Shimrit Maman – on behalf of the whole team – at this year's IAF Excellence in 3G Diversity luncheon at the 2021 International Astronautical Congress (IAC) in Dubai.