A. C. Charania
As agency chief technologist, A.C. Charania serves as principal advisor to NASA's administrator on technology policy and programs. He leads technology innovation at the agency and aligns NASA's agencywide technology investments with mission needs across its six mission directorates. Charania also oversees technology collaboration with other federal agencies and the private sector while coordinating with external stakeholders.
Charania works within NASA's Office of Technology, Policy, and Strategy (OTPS). He succeeds OTPS Associate Administrator Bhavya Lal, who had been serving as acting agency chief technologist.
Charania is an experienced leader in entrepreneurial space and aviation ventures. His private sector work includes projects under contract for NASA, the Air Force, and the Defense Advanced Research Projects Agency (DARPA). His experience spans multiple areas including launch vehicles, hypersonics, human/robotic exploration, lunar landers, planetary defense, small satellites, and aviation autonomy.
Before joining NASA, he served as vice president of product strategy at Reliable Robotics, a firm working to bring certified autonomous vehicles to commercial aviation. Charania led overall corporate strategy for the company, including working to mature product fit, leading/conducting market and competitive assessments, and engaging with global customers and partners. He also led program management for their Department of Defense autonomy projects.
Prior to Reliable Robotics, Charania worked on advanced development programs at Blue Origin. He helped define their lunar permanence strategy, created and advanced the Blue Moon lunar lander strategy, and engaged with customers and technical partners. He also moved multiple technology projects forward, including many with NASA.
Charania previously worked as a strategy and business development leader for the Virgin Galactic (now Virgin Orbit) LauncherOne small satellite launch vehicle program. While there, he advocated for using a 747-400 aircraft to air-launch a rocket carrying payloads to space and then captured a contract for several dozen launches.
Before Virgin Orbit, he held multiple roles at SpaceWorks Enterprises, including strategic thinker and technical analyst in the areas of space transportation and infrastructure design, aerospace economic/financial modeling, and general far-term technology impact assessment and prioritization. While at SpaceWorks, he was also heavily involved in incubating the two startups of Generation Orbit and Terminal Velocity Aerospace.
Charania led the formation of the FastForward industry group focused on high-speed, point-to-point transportation. He was also a NASA Innovative Advanced Concepts (NIAC) fellow and was on the Lunar Exploration Analysis Group Commercial Advisory Board. He received a bachelor's and a master's degree in aerospace engineering from the Georgia Institute of Technology, and a bachelor's in economics from Emory University.
Events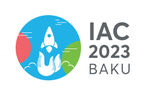 International Astronautical Congress 2023
2-6 October 2023
Baku, Azerbaijan
Participation: