Adrien DOUCET
Fleet Space Technologies • Head of Innovation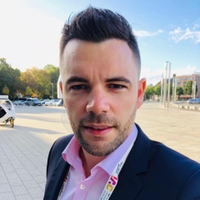 Adrien Doucet is a Space industry leader who migrated to Australia after working for over 12 years in Europe specialising in Space Systems engineering.
Adrien's personal mission is to contribute to growing Australia's sustainable Space industry. Adrien comes as a new generation Space entrepreneur with the ambition to improve the lives of Australians by putting Space within everyone's reach and to inspire the next generation of entrepreneurs and technologists.
Adrien is an alumnus from the highly-regarded Cranfield University, UK where he graduated with a Masters degree in Space Systems Engineering (2011). and a Diploma of Leadership and Management (2020), Australia.
Adrien has a personal connection with Ecuador – he is engaged to an Ecuadorian national.
Events

The Global Conference on Space for Emerging Countries 2022
16-20 May 2022
Quito, Ecuador
Participation: