Ahmed BARAKA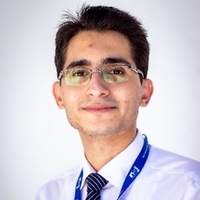 Ahmed is a clinical pharmacist from Egypt who is passionate about space neuroscience, space sciences, and deep space exploration. His childhood dream is to be part of the effort to make humans a multi-planetary species and to make deep space exploration a reality. Over the years, he has been working on including Egypt, Africa, and the Middle East in the next human spaceflights era.
Currently, Ahmed serves as the regional coordinator for the Middle East for the Space Generation Advisory Council (SGAC), member of the IAF Space Life Sciences Committee, the chair of the International Outreach Committee for the Aerospace Medicine Student & Resident Organization (AMSRO), and the founder and president of the AMSRO regional chapter in Alexandria, Egypt.
Additionally, Ahmed is working on some great projects mostly dedicated to space medicine and human space exploration as the space medicine program for Egypt along with the Egyptian Space Agency, building the first Mars/Moon analog station in the Western Desert of Egypt, and a roadmap to enable Africa to have sustainable human spaceflights by 2030. In 2019, he received the African Space Leaders Award from the Space Generation Advisory Council (SGAC), in recognition of these efforts.
Besides, Ahmed is an active member of many space professional organizations like the Aerospace Medical Association (AsMA), Aerospace Medicine Student and Resident Organization (AMSRO), the Space Medicine Association (SMA), the Planetary Society, Space Generation Advisory Council (SGAC), and the Moon Village Association.
Events

International Astronautical Congress 2021
25-29 October 2021
Dubai, United Arab Emirates
Participation: