Alfonso PAGANI
Politecnico di Torino • Associate professor of spacecraft structures at the Department of Mechanical and Aerospace Engineering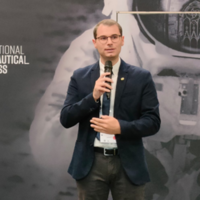 Alfonso Pagani serves as associate professor of spacecraft structures at the Department of Mechanical and Aerospace Engineering, Politecnico di Torino. He obtained a Ph.D. in Aerospace Engineering from City University of London in 2016 and, prior to that, a Ph.D. in Fluid-dynamics (Aeroelasticity) from Politecnico di Torino.
As an active fellow of the Italian Association of Aeronautics and Astronautics (AIDAA, www.aidaa.it), which is a distinguished founding member of the International Astronautical Federation (IAF) and the hosting organization of IAC 2024, dr. Pagani holds several significant responsibilities. These include being AIDAA's IAF delegate, chair of the European research actions initiative, and invited member of the AIDAA Governing Board.
Alfonso Pagani is associate editor for Advances in Aircraft and Spacecraft Structures and the International Journal of Dynamics and Control. He conducts his research on structures, space mechanisms and advanced materials mechanics at the MUL2 Lab (www.mul2.com). His scholarly pursuits encompass a broad spectrum of fundamental and applied studies, having forged numerous fruitful collaborations with international organizations and industry. Recognizing his contributions to the field, he has indeed garnered several prestigious awards, including a Wiley Best Paper Award in 2023 and the Ian Marshall's Award in 2013. Dr. Pagani is the PI of the EU-H2020 ERC-StG project PRE-ECO, which aims to explore a novel approach to addressing the challenges associated with the design of variable stiffness structures for aerospace applications (www.pre-eco.eu). Additionally, he is the deputy for Spoke 8 in the Extended Partnership "Space It Up!", a program funded by the Italian Space Agency that focuses on advancing human and robotic space exploration.
Previously, in 2018, Alfonso joined the California Institute of Technology as a visiting associate to study deployable space booms. He also spent research periods at various institutions, including Purdue University in 2016, where he explored the micro-mechanics of fibre-reinforced composites. In addition, he conducted research at RMIT Melbourne in 2014 and at Universidade do Porto in 2013.
Events