Anders LINDER
RUAG Space • Senior Vice President Global Satellites Business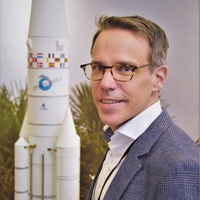 As Senior Vice President, Anders is responsible for RUAG Space's global business in the Satellites domain. Customers are since many years virtually all primes designing satellites – where RUAG Space contributes with leading products in areas like Avionics, Microwave/RF, Structures, Thermal solutions, Mechanisms, Antennas, Computers and Navigation. In addition to providing advanced components, complete subsystems like Solar Power Systems are provided.
With more than 25 years of experience in different industries, Anders brings a deep knowledge of the power of industrialization from work in the Industrial Automation sector (ABB), as well as Telecom (Ericsson). He also comes from more than 15 years with governmental customers, where before joining RUAG Space he was an executive leading Saab's Military radar business. In RUAG Space he started leading the Electronics sector before moving into the complete offering towards Satellites.
Anders holds a Master of Science in Automation Engineering from Chalmers University of Technology (Sweden), and did parts of that degree at Université de Technologie de Compiègne (France).
Events

International Astronautical Congress 2021
25-29 October 2021
Dubai, United Arab Emirates
Participation: