Andrea BOYD
Andrea Boyd is an ISS Flight Controller stationed at the European Astronaut Centre.
A Mechatronic Engineer from The University of Adelaide, Australia, she specialised in robotics in South Korea, worked as an Automation Engineer for many industries then spent years underground and in the end to end process plant, turning ore into refined products, as a Mining Control Systems Specialist onsite in the remote desert.
Andrea certified as an ISS Flight Operations Engineer for payload control and cross-certified in later years for crew operations, serving in the European Space Agency's Human Spaceflight and Robotic Exploration Directorate. With ten years combined mining and aerospace engineering, she has lived, worked and studied in over 75 nations, assists with IAC2017 Adelaide, serves on IAF committees, co-authored a new textbook on Space Mining and is on the Australian of the Year Honour Roll for her volunteer work around the world at schools, universities and NGOs, inspiring young people to pursue ambitious careers.
Events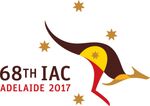 International Astronautical Congress 2017
25-29 September 2017
Adelaide, Australia
Participation:

International Astronautical Congress 2015
12-16 October 2015
Jerusalem, Israel
Participation: