Armengol Torres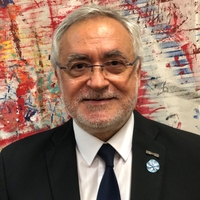 Armengol Torres is a highly accomplished space professional with over three decades of experience working on high-tech projects in Europe and Latin America. He has a keen interest in space outreach and specializes in providing organizations with improved visions and high-value business strategies to expand their impact, enhance their image, and achieve sustainable growth.
Armengol has collaborated with numerous space organizations and projects, including space agencies, the IAF, ECMWF, ESA, EUSPA, Copernicus, AZO Space, the EureCat and Leitat R&D technology centres, business schools, universities, and space startups. He served as the Vice President of the World Space Week Association and oversaw coordination and education efforts across 90+ countries, generating thousands of space outreach events over several years.
With a wealth of experience in executive management roles and as a senior consultant, Armengol's expertise lies in marketing and outreach, executive strategy development, project analysis, business development, entrepreneurship mentoring, lecturing, STEAM training and education, and tech editing and publishing. He is driven by creativity, flexibility, curiosity, team building, and innovation, with the aim of achieving high-impact communication and business growth.
Since 2014, Armengol has been a pioneer in promoting the NewSpace Community-building ecosystem, leading a specialized LinkedIn open group with most relevant international space professionals participants promoting collaboration and innovation in the industry.
Armengol holds an MSc in Interactive Communications from the Universitat Autònoma de Barcelona (UAB), with studies in Telecommunications Engineering, Physics, and Space applications. He is an expert member of the IAF Space Education and Outreach Committee (SEOC) and the IAF Administrative Committee for Connecting Emerging Space ecoSystems (ACCESS).
Events

The Global Conference on Space for Emerging Countries 2022
16-20 May 2022
Quito, Ecuador
Participation: