Armengol Torres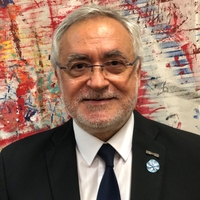 Based in Barcelona, Armengol Torres is volunteering as Vice President of Coordination and Education for the UNOOSA's partner World Space Week Association coordinating 90+ country ambassadors who generate 8,000+ space outreach events yearly. The WSWA mission is to strengthen the link between space and society through public education, participation, and dialogue on the future of space activity using World Space Week as a focus. Particularly, the WSWA Educational Program strives to increase educational benefits by providing organizations and teachers with guidance and classroom activities that use space to excite students about STEAM learning and vocations.
Passionate about Space since quite young, Armengol has 30+ years of international experience in Europe and Latin America managing high-tech projects and as an entrepreneur. As a Senior Aerospace consultant, he is currently collaborating with organizations and projects involving IAF, WSWA, ECMWF, ESA, EUSPA, Copernicus, Galileo, EureCat, Eureka IFD, business schools, and space startups. Also, as a mentor, business advisor, educator, writer, and lecturer.
Pioneer in the NewSpace Community-building ecosystem promotion, since 2014 is leading a specialized LinkedIn open group involving 1,100+ space professionals https://www.linkedin.com/groups/8437769/
Armengol Torres holds a Master's degree in Interactive Communications from the Universitat Autònoma de Barcelona (UAB), with studies in Telecommunications Engineering, Physics, and Space applications.
Member of the IAF Committee on Developing Countries and Emerging Communities (ACDCEC).
Events

The Global Conference on Space for Emerging Countries 2022
16-20 May 2022
Quito, Ecuador
Participation: