Barbara Amelia King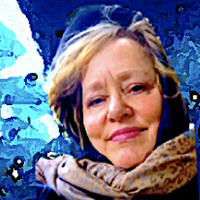 As a Space Artist using traditional and digital media, Barbara's research details the polymathic intersection between space art and space science, and the designing of satellite missions to include smart art, alongside a robust agenda of social/cultural benefits. She aligns with those in the forefront of establishing best practices in art within a global context, on and off world.
For thirty years Barbara's documentaries and films of a social/historic/artistic nature aired across the African continent. She has curated, exhibited, and lectured on Human Rights Artists in North America, Europe and Africa, and was the first non-African to be invited to exhibit at the Timbuktu Municipal Gallery, in Mali, at the turn millennium 2000.
Barbara gave interventions at the United Nations Human Rights Commission, Geneva, on behalf of Indigenous Artists, and Democracy Watch in South Africa. Further, she has joined the conversation for the Year of The Creative Economy and Sustainable Development, through the New York Commission of the Status of Women, 2021.
Currently she is active within ITACCUS, the American Institute of Aeronautics and Astronautics (AIAA), the International Association of Astronomic Artists, (IAAA) and the Lifeboat Foundation communities. Barbara has presented at the poster session IAC 2011, been published on The South African National Space Agency website, in Leonardo, and Springer, and has both presented at conferences, and been published by the AIAA, and Space Renaissance International.
Events