Barry Matsumori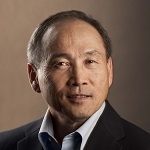 Barry Matsumori is currently responsible for all sales and business development at SpaceX, bringing over 25 years of experience in technology and business.
Prior to SpaceX, Matsumori worked for several key telecom companies, primarily at Qualcomm, in developing mobile communications technologies and products lines. His most recent role at Qualcomm was as Vice President, Wireless Connectivity. In this capacity his responsibilities included product management, marketing, and technical development of mobile telecom module products. He had worked on the development of satellite communication infrastructure and terminals at Qualcomm also.
Matsumori had also worked with early stage technology companies in executive management roles. This included developing new product lines based on leading edge technologies or maturing operational processes leading to an IPO.
He has worked in the satellite communications market at Space Systems Loral. Further, he has worked on the development and support of space launch vehicles at General Dynamics.
Matsumori holds a BS in business from Arizona State University and an MS in Electrical Engineering degree from the University of Arizona.
Events

International Astronautical Congress 2015
12-16 October 2015
Jerusalem, Israel
Participation:

International Astronautical Congress 2012
1-5 October 2012
Naples, Italy
Participation: