Bill BECKMAN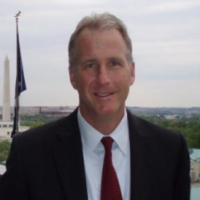 Bill Beckman is the Director for NASA Programs in the Boeing D.C. Operations office. His responsibilities include interfacing with Potomac region customer base including NASA, Congressional/Executive Branch offices, and representing Boeing in local industry groups.
Prior to this assignment, Bill provided business development support to Space Exploration programs as a Marketing Manager in Washington D.C. Before his relocation to the DC area, he was a Field Operations Manager supporting all Boeing efforts at the Kennedy Space Center.
As the Field Marketing Manager for Rocketdyne Power & Propulsion at Stennis Space Center, Bill supported NASA expansion efforts, and worked closely with the local elected representatives and the Hancock County Port and Harbor Commission responsible for economic develop in the area. Prior to his field service, Bill was a Business Development Manager for Rocketdyne Power & Propulsion in Canoga Park, CA supporting the RS-68 engine program and advanced rocket engine programs.
He began his career in 1988 as a Research and Development Engineer with the Advanced Programs group of the Rocketdyne Division of Rockwell International, and later transitioned in to project engineering and program management roles.
Bill holds a bachelors degree in Aeronautical and Astronautical Engineering from Purdue University and a masters of Business Administration from Loyola University in Chicago. He currently resides in Arlington, VA.
Events

International Astronautical Congress 2019
21-25 October 2019
Washington, United States
Participation: