Daniel CALLEJA CRESPO
DG Enterprise and Industry • Director General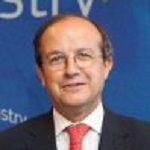 Since 1st February 2012, Mr. Daniel Calleja is Director General of DG Enterprise and Industry. He is the Special Envoy for SMEs.
Daniel Calleja was Deputy Director General of DG Enterprise and Industry, from February 2011 to January 2012, in charge of internal markets for goods, competitiveness and innovation, SMEs and entrepreneurship, international negotiations and tourism. He is the Special Envoy for SMEs.
Mr Calleja was Director for Air Transport at the European Commission from November 2004 to February 2011, in charge of the single European aviation market and its external dimension. He has successfully negotiated, on behalf of the E.U., the EU-US Open Skies Agreement. He was the Chairman of the Air Safety and the Single Sky Committees and Chairman of the Board of the SESAR Joint Undertaking.
Between 1999 and 2004, he was Head of Cabinet of the Vice-president of the European Commission, Mrs. Loyola de Palacio, responsible for Transport, Energy and relations with the European Parliament. During this period, he participated actively in the elaboration of the EU transport policy, notably in the launching of the Transport White Book, the Single European Sky, the creation of the European Air Safety Agency (EASA) and the Galileo program.
Between 1995 and 1999, Mr. Calleja was the Head of Cabinet for Commissioner Marcelino Oreja, responsible for institutional affairs, and for the Amsterdam Treaty negotiations. In 1995, he was the legal adviser in the Cabinet of the President of the European Commission, responsible for Transport, Competition, State Aids and the control of the application of Community Law.
Between 1993 and 1994, he advised the Transport Commissioner in the area of liberalisation of air transport, State aid cases concerning the restructuring of airlines, the first directive on groundhandling, the implementation of the third air package and the CRS regulation.
Between 1986 and 1993, he was Member of the Legal Service of the Commission and he represented the institution in numerous cases before the European Court of Justice.
M. Calleja is the author of several publications. He has lectured in European Law in several universities and institutes of various Member States.
Mr Calleja has a degree in Law and in Business Administration from the University of Comillas, Madrid.
Events