Carolina Catani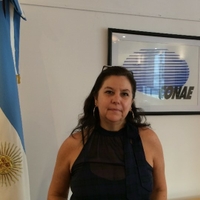 She is the Technical-Legal Responsible in Space Law of the NATIONAL COMMISSION FOR SPACE ACTIVITIES (CONAE) and former Director of the Board of Directors of VENG S.A., a high-tech space company controlled by CONAE.
In her 30 years of professional practice, she has worked in the private, public and governmental sectors, where she has spent almost half of her working life in different positions and roles. In her career she has broad experience in the field of international space law, advising the highest authorities of the Argentine space agency and, when required, other governmental areas. She is involved in international cooperation agreements, including international space organizations, acting proficiently in matters of Space Law and Policy, Earth Remote Sensing, Data Policy, Space and Service Contracts, including ground Stations services, and many other issues that need to be locally implemented.
She is a Lawyer, Researcher and Specialist in Aeronautic and Space Law, in addition to having taken several courses, careers and other postgraduate studies in the country (among them the Master in Science, Technology and Society at UNQuilmes, Communications Update Program at UBA- University of Buenos Aires), and abroad (University of Michigan-USA; University of Hunan- CHINA). Currently, she has started her PhD in Law (JFKennedy University) with a focus on Space Law.
She is a member of the Delegation of the Argentine Republic before the UN-COPUOS, including its Sub-Commissions.
She is a Professor of "Jurisprudence and Space Legislation" of the Specialization in Aeronautic, Space and Airport Law of the National Institute of Aeronautic and Space Law -INDAE-, a postgraduate course at the UNDEF University, and is also a member of the Academic Council of such academic institution, representing the Space branch. She also promote the permanent generation of better legal capacities in young lawyers and the women in the field of science and technology.
She is full Member of several professional legal-academic entities, including: Argentine Council for International Relations (CARI), Institute of Land, Maritime and Space Transport Law of the Argentine Bar Association of the City of Buenos Aires (CPACF); Member of the Argentine Association of Studies for Public Administration (AAEAP) and Member of the Latin American and Caribbean Space Network (ReLaCa Espacio), for Argentina;
She is regularly invited to speak at specialized conferences and courses, and has published several papers throughout her career.
She has participated as a member of Committees for the selection of public professional positions within the scope of the Ministry of Science, Technology and Innovation.
Events

The Global Conference on Space for Emerging Countries 2022
16-20 May 2022
Quito, Ecuador
Participation: