D. GOWRISANKAR
Dr. D. Gowrisankar is currently working as Director at the Office of International and Interagency Cooperation (OIIC), at the Headquarters of Indian Space Research Organisation (ISRO) of Department of Space (DOS) of Government of India at Bangalore. At this capacity, he is interacting with space agencies of other nations, multilateral bodies missions in India and abroad, to pursue bilateral and multilateral space cooperation in all domains of space technology including launchers, satellites, ground stations and applications.
He joined ISRO in February 1999 as a scientist with expertise in Agriculture and Remote Sensing and worked on various application projects related to agriculture and soils.
Since February 2009, he is coordinating ISRO's international cooperation in the pursuit to enhance the capacity of the Indian space programme; strengthen the India's diplomatic relations through space relations; and formulating the global guide-lines on space activities. He has contributed for strengthening space relations with spacefaring nations and also establishing new relations with space aspiring nations.
He received his Master of Science in Agriculture from the Tamil Nadu Agricultural University (TNAU), Coimbatore in 1994 and Doctorate in Soil Science from Indian Agricultural Research Institute (IARI) of Indian Council of Agricultural Research (ICAR), New Delhi in 1998. He worked on micronutrients for his post-graduation and on Sulphur dynamics of Delhi soils for his doctorate with ICAR fellowship.
He has more than 30 publications under his name in national and international journals, mainly on agriculture, soil science and natural resources management. He has contributed to the initial drafting of 'Indian National Space Policy' as member of key ISRO/DOS committees.
He has been awarded with 'ISRO Merit Award-2018' in recognition for his meritorious contribution to the Indian space programme.
He has been elected as Corresponding Member in the prestigious International Academy of Astronautics (IAA) in Social Sciences section.
Events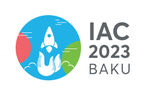 International Astronautical Congress 2023
2-6 October 2023
Baku, Azerbaijan
Participation: