Danielle WOOD
Danielle Wood, PhD, is a post-doctoral researcher within the Space Department of the Johns Hopkins University Applied Physics Laboratory. In 2012, she completed her PhD within the Engineering Systems Division of the Massachusetts Institute of Technology where she studied aerospace engineering, technology policy and international development. Her graduate research combined Systems Engineering and social science to study the technical and programmatic challenges of new satellite programs. As part of her graduate work, Wood executed a 9-month field research tour where she studied satellite programs in Africa, the Middle East and Asia.
Prior to her work at the Applied Physics Laboratory, Wood pursued diverse experiences with NASA as an intern, researcher, graduate fellow, contractor and Student Ambassador. Her most recent internship considered new ways that NASA technology spin-offs can be deployed for the benefit of developing countries. Wood also interned with the United Nations Office of Outer Space Affairs in Vienna, Austria.
Wood has been active with IAF meetings and outreach events since 2008, when she attended her first International Astronautical Congress. In 2009, she was selected to participate as a speaker in the inaugural IAC Youth Plenary Session, where she discussed her hopes for a future in which space resources and innovation are actively pursued in every country around the world. In 2010 and 2011, Wood contributed to the IAF Space Education and Outreach Committee's Professional Development programmes for local teachers during the IAC. She gave presentations to secondary and primary school teachers about how they can uses NASA Educational materials in their classrooms. Since 2009, Wood has volunteered to coordinate an online communication forum for past and newly-selected IAF Emerging Space Leaders (formerly Youth Grants) to keep them in contact with each other and with the IAF.
Events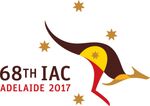 International Astronautical Congress 2017
25-29 September 2017
Adelaide, Australia
Participation: