David PARKER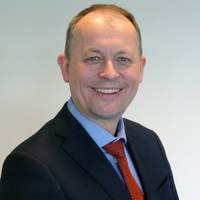 David Parker graduated from the University of Southampton with a degree in Aeronautics and Astronautics in 1984, and a PhD in 1989.
In 1990, he joined British Aerospace Space Systems Ltd as a Guidance, Navigation and Control Engineer, working on Cluster as well as technology developments and studies for new space missions including small launch vehicles, sounding rockets and scientific spacecraft.
From 1991, as Head of Liquid Propulsion Systems for British Aerospace, he led all propulsion technology and contract study work for ESA missions.
From 1995 to 1997, he was Head of Guidance, Navigation and Control at Matra Marconi Space, Bristol. As the youngest department head in the company, he led a team of 25 specialists working on ESA science missions including SOHO, Cluster, XMM-Newton, Integral and Rosetta.
He was then selected for a two-year secondment from industry to the Department of Trade and Industry as Assistant Director (Industrial Sponsorship) at the British National Space Centre (BNSC), London (the predecessor of the UK Space Agency).
In 1999, David joined EADS Astrium as Institutional Business Manager and then Key Account Manager for Space Science, from 2002 to 2004. From 2004, David Parker served as the UK Science and Technology Facilities Council's space policy manager and representative within BNSC.
On creation of the UK Space Agency in 2010, David was appointed Director for Technology, Science and Exploration and acting Head of UK Delegation to ESA. At end of 2012, he became Chief Executive of the UK Space Agency and continued to lead the UK Delegation to ESA until his present appointment.
Events