Dennis STONE
Dennis Stone is volunteer President of World Space Week Association, the global coordinator of UN-declared World Space Week, held October 4-10 annually. The largest space event on Earth celebrated in over 90 nations, World Space Week in 2021 consisted of over 6,000 events attracting over 700,000,000 Twitter impressions. Mr. Stone has led the Association since its founding.
Mr. Stone is a commercial space executive at NASA's Johnson Space Center in the Commercial LEO Development Program. There he manages partnerships to support development of commercial LEO destinations. The last half of his over 35 years with NASA has focused on such innovate commercial partnerships, starting with the Commercial Orbital Transportation Services (COTS) investment in cargo capabilities of SpaceX and Northrop Grumman. The first half of his NASA career focused on the International Space Station in system engineering, avionics, international relations, risk management, and technology development.
Prior to joining NASA, he worked for McDonnell Douglas, Ford Aerospace, and Rockwell. He has dual Bachelor of Science degrees in Physics and Electrical Engineering from the University of Hawaii.
Events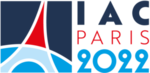 International Astronautical Congress 2022
18-22 September 2022
Paris, France
Participation: