Donato AMOROSO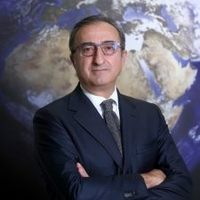 Donato Amoroso is Chief Executive Officer of Thales Alenia Space Italia S.p.a. and he also holds an international position as Deputy to the President and CEO of Thales Alenia Space, Jean-Loïc Galle, with direct responsibility for the Earth Observation, Exploration and Navigation (OEN) business line.
Before joining the joint-venture specialised in satellite systems in June 2015, he gained extensive experience in Alenia Aermacchi working within the international partnerships field.
In Alenia, the Aircraft Division of the Leonardo Group, Donato Amoroso participated in the most technologically advanced industrial programmes, holding various important positions: from 2004 to 2008, he was the Caselle site Manager (Turin), he was the Senior Vice-President of the Military Aircraft business unit, directing the C-27J programme and the Joint General Production Manager. As from 2012, he was the General Manager of Boeing Programmes, in charge of commercial relations and as from 2014 until leaving Alenia he held the position of Chief Operating Officer.
He was born in Chieti in 1959 and he is married and has two children.
Events

International Astronautical Congress 2019
21-25 October 2019
Washington, United States
Participation: