Doreen BOGDAN-MARTIN
International Telecommunication Union (ITU) • Secretary-General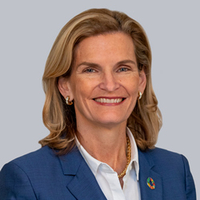 Doreen Bogdan-Martin took office as Secretary-General of the International Telecommunication Union (ITU) on 1 January 2023.
Ms Bogdan-Martin has held leadership positions in the field of international telecommunications policy for over two decades, with a track-record of brokering innovative partnerships to expand digital inclusion and connectivity for everyone around the world. Following her historic election by ITU Member States in September 2022, she became the first woman ever to head the organization, which was first established in 1865 and became a UN specialized agency in 1947.
As ITU Secretary-General, she aims to drive innovative solutions, maximize ITU's relevance for its 193 Member States, intensify global cooperation on connecting the unconnected, and strengthen the alignment of ITU's programmes with the Sustainable Development Goals set out by the United Nations. Ms Bogdan-Martin has consistently emphasized the need for digital transformation to achieve economic prosperity, job creation, skills development, gender equality, and socio-economic inclusion, as well as to build circular economies, reduce climate impact, and save lives.
As Director of ITU's Telecommunication Development Bureau for a four-year term starting in 2018, she helped put sustainable digital development at the forefront of international cooperation, including with the private sector and civil society. Among other ITU development priorities, she actively promoted the Partner2Connect initiative, which has mobilized unprecedented pledges of funding and support for meaningful Internet connectivity in developing countries.
She was previously instrumental in establishing the ITU-UNESCO Broadband Commission for Sustainable Development, serving as its Executive Director for more than a decade; contributed to the success of ITU's Global Symposium for Regulators as the pre-eminent worldwide meeting for digital policy makers; and led ITU's youth engagement strategy. She also pioneered ITU's ongoing contribution to the EQUALS Global Partnership for Gender Equality in the Digital Age and initiated ITU's collaboration with UNICEF on the Giga project to connect every school worldwide to the Internet.
Within ITU, she has promoted gender equality and encouraged bringing more women into the workforce, as well as helping women grow professionally and contributing to networks of women pursuing gender-balanced participation in conferences and policy making.
From 2008 until 2018, Ms Bogdan-Martin served as Chief of ITU's Strategic Planning and Membership Department, overseeing corporate communications, external affairs, corporate strategy, and membership. Earlier, she headed the ITU Telecommunication Development Bureau's Regulatory and Market Environment Division and Regulatory Reform Unit.
Before joining ITU in 1994, she worked at the U.S. Department of Commerce as a Telecommunication Policy Specialist in the National Telecommunication and Information Administration.
Ms Bogdan-Martin holds a Master's in International Communications Policy from American University in Washington, DC, a post-graduate certification in Strategies for Leadership from the Institute for Management Development in Lausanne, Switzerland, and a certification in Accountability and Ethics from the UN Leaders Programme. She is also a qualified amateur radio operator.
Ms Bogdan-Martin is married with four children.
Events