Driss El Hadani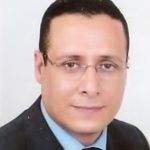 "I have been working during more than 30 years in the area of Remote Sensing and Space Technologies. As Director of the CRTS, the Moroccan agency in charge of RS applications and development, I developed sharp expertise and knowledge of this sector as well as at national level or with international cooperation agencies and mechanisms."
June 2000 to June 2004: First Vice-president of the United Nations Committee for the Peaceful uses of Outer Space (COPUOS)
October 2002-October 2004 Vice-president of the International Astronautic Federation (IAF).
GEO Principal for Morocco since 2005
Member of the Executive Committee of the Group on Earth Observation (GEO)
Member of the Eurisy Association Council.
Member of the UN-OOSA Working Group in charge of strategy for the integration of space technique in risk and natural disaster management (DMISCO)
July 2005: member of the IGOL team (Integrated Global Observation for Land); a subcommittee of IGOS (Integrated Global Observing Strategy)
Member of the Scientific committee of the African Centre for Catastrophic Risks; created by the African Insurance Organisation.
Events