Dunay BADIRKHANOV
Dunay Badirkhanov joined Azercosmos in 2011 as a member of core team to receive international trainings in satellite engineering and operations in order to get prepared for the launch and operations of the first satellite of Azerbaijan – Azerspace-1.
As a Satellite Operations Manager since 2013 he coordinated the development of the concept of operations, in order to support satellite telecommunications services. In 2014 Dunay participated in the development of earth observation infrastructure of Azercosmos in scope of the launch of Azersky – the second satellite of Azercosmos.
Since 2016, as a Director of Satellite and Ground-based Systems Department, he managed the process of preparation for the launch of Azerspace-2 satellite, which took place in 2018.
After he was appointed as a Vice Chairman of Azercosmos in 2018, Dunay acts as a Chief Technology Officer and also supports the space agency in building international relationships.
Apart from that, Dunay is actively cooperating with various schools and universities to raise awareness about everything-space among the younger generation and encourage them to participate in space-related activities in Azerbaijan. He manages the process of establishment of training programs in local universities in the fields of aerospace and satellite applications.
Dunay received a MSc degree in Mechanics from St. Petersburg University in 2009.
Events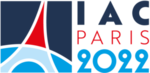 International Astronautical Congress 2022
18-22 September 2022
Paris, France
Participation:

International Astronautical Congress 2021
25-29 October 2021
Dubai, United Arab Emirates
Participation: