Eleanor Morgan
U.S. Air Force • Reserve Officer and Pilot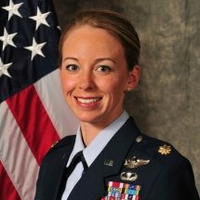 Major Eleanor E. Morgan is a U.S. Air Force Reserve officer and pilot whose 12-year active duty career has included leadership positions and combat flight operations in both manned and unmanned aircraft. During her most recent assignment she has served as an Evaluator Pilot, Electronic Combat Officer, and Mission Director for Remotely Piloted Aircraft (RPA).
As a Mission Director at the Air Force's Persistent Attack & Reconnaissance Operations Center, Major Morgan was responsible for supervising 24/7 combat operations across three combatant commands and five geographic theaters, integrating both USAF and Coalition RPA missions, and directing global RPA mission execution as tasked by the Secretary of Defense and President of the United States. As an Electronic Combat Officer, she serves as a systems matter expert on the use of the electromagnetic spectrum and satellite networks for military RPA operations. Prior to her RPA assignment, Major Morgan served as a C-17A Aircraft Commander where she flew rapid global mobility missions in support of the War on Terror, completing multiple deployments and logging over 700 combat hours.
Major Morgan graduated from the U.S. Air Force Academy in 2006 and holds a bachelor of science degree in systems engineering and a master of science degree in space studies. She has been a member of the Space Generation Advisory Council since 2014 and was an organizing committee member for the 2017 Space Generation Congress in Adelaide, Australia. In 2018 she was selected to participate in NASA's Human Exploration & Research Analog (HERA) program at Johnson Space Center where her 4-member crew completed a 45-day simulated space exploration mission aimed to assess the physiological and psychological effects of isolation, confinement, and sleep deprivation.
Events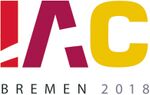 International Astronautical Congress 2018
1–5 October 2018
Bremen, Germany
Participation:
Participation