Elizabeth BARRIOS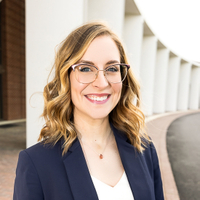 Dr. Elizabeth Barrios is a Structural Materials Engineer with NASA's Marshall Space Flight Center. Working in the Avionics Division of the Space Systems Department, Elizabeth's work focuses on the failure analysis of avionics components for NASA, the DoD, and the FAA. Her work also encompasses multiple research ventures including in-space manufacturing efforts for printed electronics and sensors. Previously, she was a Materials Research Engineer with the National Institute of Aerospace focusing on the development of in-situ monitoring tools for the surface preparation of carbon fiber polymer composites for adhesive bonding and the atomistic modeling efforts for the development of all solid-state lithium ion batteries.
With a passion for advancing the technical capabilities of space exploration through material selection and development, she completed her PhD (December 2020) in Materials Science and Engineering at the University of Central Florida. With support from a NASA Space Technology Research Fellowship, Elizabeth focused her PhD studies on exploring the development and feasibility of utilizing polymer and ceramic composites for lightweight, non-toxic thermoelectric materials.
Elizabeth found the IAF and Space Generation Advisory Council (SGAC) in 2017 at the IAC in Adelaide, Australia. She currently serves as the Chair for the IAF Launchpad Mentorship Programme and is a Regional Coordinator for SGAC. She is a member of the IAF YPP/WD Committee and has previously served as a member of the Workshop Organising Team for the IPMC Young Professionals Workshop (2018, 2019) and on the Space Generation Congress Organising Team (2019). Elizabeth has also spoken in the Next Generation Plenary (2020), where she spoke on public-private partnerships as they relate to the next generation of aerospace professionals. Beyond her involvement with the IAF, Elizabeth also serves on the Board of Advisors for SEDS-USA.
Elizabeth's work ethic and leadership skills have led her to receive many awards such as the NASA Space Flight Readiness Team Award (2018) for her work on the Advanced Plant Habitat (APH), the IAF Emerging Space Leader Grant (2018, the Luigi G. Napolitano Award (2020) for her work on thermoelectric material development, the IAF's Young Space Leader Award (2021), and the SGAC's Space Generation Leadership Award (2021).
Events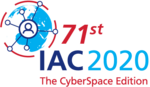 International Astronautical Congress 2020
12-14 October 2020
Cyberspace edition
Participation: