Elżbieta Jabłońska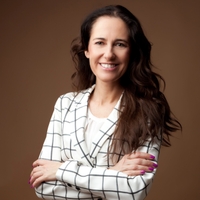 Elżbieta is a multidisciplinary expert with over two decades of experience across different industries with the focus on Space, HiTech, Offshore, Smart Ports. Over her career, she has lived, worked and experienced the rich, cultural diversity of more than 20 countries.
Entrepreneur - in 1997, she started her first privately held company in the field of engineering, introducing small, independent manufacturers from post-Communist countries to Western markets.
Executive and Leadership Coach - Elżbieta has completed over 4000 hours of coaching with individuals (junior to C level) at organisations as diverse as start-ups, public-owned bodies and international corporations. Elżbieta has become well-versed in creating perfectly tailored processes in mentoring and coaching, where she employs both her multidisciplinary experience and the rigorous training she has received from renowned, global organizations.
Mentor - Elżbieta supports various entities as a Mentor, as well as international acceleration and incubation programs in her capacity as a startup's Mentor – e.g. Copernicus Accelerator, Space Generation Advisory Council, Astropreneurs.
Advisor - since 2003 she has been working as an advisor. She serves as an Advisory Board member, Expert, Chair and Consultant for private and public sector organizations. Most recently she was a Chair of the International Leadership Association - Public Leadership department. She has also worked directly with the Head of ESA Technology Transfer and Business Incubation Office within the framework of the ESA BICs and in the set-up towards the ESA BIC Poland.
Educator - Elżbieta is also a passionate lecturer and executive trainer in the field of Leadership, Entrepreneurship, Cross-cultural Communication, and Diplomacy.
Elżbieta has also worked extensively on many non-profit projects worldwide e.g. Central America, the Balkans, South East Asia.
Events

The Global Conference on Space for Emerging Countries 2022
16-20 May 2022
Quito, Ecuador
Participation: