Enrico FLAMINI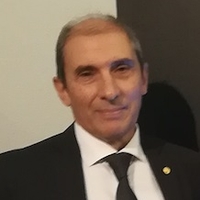 Prof. Enrico Flamini has been for many years the Italian Space Agency (ASI) chief Scientist and now he cooperates with ASI as associate. He also continues his academical activity as Professor of the course in "Solar System Exploration" at the University D'Annunzio in Pescara (Italy). During his career at ASI he has provided his expertise as Product Assurance in some key Italian projects as the IRIS-Lageos2 and TSS 1 missions, in the following years he operated as ASI Program Manager for international cooperation planetary missions as Cassini-Huygens, MRO, Mars Express and others. After few years as Director of the ASI Observation of the Universe Unit, lately he was appointed as Chief Scientist. He has been a member of many international boards for exploration as IMEWG, iMARS, ILEWG, and Italian delegate to the ESA Science Programme Committee becoming then Vice -Chair and Chair of the SPC.
Prof. Flamini scientific activity started when he was a young researcher at University of Sussex and continued for all these years in ASI. The planetary cratering processes, Mars permafrost terrains and subsurface ices, Titan surface property and morphology have been the major topics of his researches.
He has been awarded by NASA's with the Exceptional Public Service Gold Medal and by the French Republic with the title of Officier de L'Ordre du Mérit.
Among a long list of scientific publications, he is also Editor and author of the Encyclopedic Atlas of Terrestrial Impact Craters recently published.
Events

International Astronautical Congress 2019
21-25 October 2019
Washington, United States
Participation: