Fatih OZMEN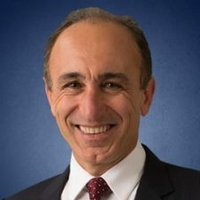 As CEO of Sierra Nevada Corporation (SNC), Fatih Ozmen uses his insight and experience to anticipate the emerging technological needs of the global marketplace, developing tomorrow's technologies today. Driven to innovate for impact—to improve the welfare of humanity and security of the nation—he leads SNC's exploration of novel and cutting-edge technologies.
Known as a creative thinker and problem solver, Fatih's never-ending enthusiasm, broad knowledge, and technical expertise guides the dedication to quality and service that is a hallmark of the organization. From scientists and cybersecurity experts to software engineers and military leaders, the entire SNC team is committed to customer-centricity, surpassing the status quo, and entrepreneurial thinking. It is this culture and vision that distinguishes SNC as a preferred partner and employer of choice.
Fatih joined SNC in 1981 with a broad engineering background and a M.S. in Electrical Engineering from the University of Nevada, Reno. He designed and developed high-tech systems and managed several key integration programs during his early years at SNC. With a strong vision for the future, Fatih and his wife, Eren Ozmen, acquired SNC in 1994 and as sole owners launched plans to expand the company. Their strategic leadership—including targeted acquisitions, disciplined financial and technical management, and an unwavering focus on integrity—resulted in SNC's growth from a small firm of 20 employees into one of the top federal contractors in the United States. Fatih was selected by U.S. Vice President Mike Pence to help to chart America's course in space as a member of the National Space Council Users' Advisory Group, and is a recognized leader in innovation and agile acquisition. Today SNC is a team of nearly 4,000 people in 33 locations in 19 U.S. states, England, Germany, and Turkey.
Fatih and Eren both received honorary doctorate degrees from the University of Nevada, Reno, in 2016. The Ozmens founded the Ozmen Center for Entrepreneurship at UNR in 2014, which encourages collaboration across educational, professional, and geographic boundaries.
Events

International Astronautical Congress 2019
21-25 October 2019
Washington, United States
Participation: