Frederic Nordlund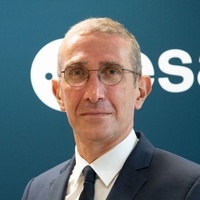 Frederic Nordlund is Head of the European and External Relations Department, Directorate of European, Legal and International matters at the European Space Agency (ESA). In this role he is responsible for supporting ESA's Director General and the ESA management for all aspects of external relations to and cooperation with the European Union and ESA's international partners.
Frederic Nordlund has more than 30 years of professional experience in Space and has worked closely with numerous space agencies around the world. He started his career at ESA back in 1993. Prior to his current position he served in different roles in ESA which included acting head of the Director General's cabinet, senior advisor on international relations, head of ESA's Washington office and as administrator for ESA relations with US, Japan and Canada.
He was bestowed the NASA Exceptional Public Service Medal in June 2010 and is a member of several professional organisations.
Frederic Nordlund has followed the IAC since the 1991 conference in Dresden, Germany, and has an active role in the IAF Committee for Liaison with International Organisations and Developing Nations (CLIODN).
Events