Gary Henry
SpaceX • Senior Director of National Security Space Solutions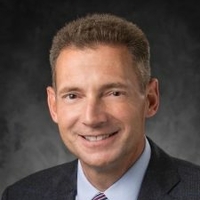 Gary Henry joined SpaceX in February 2019 as senior director of National Security Space Solutions.
Prior to joining SpaceX in 2019, Gary was Senior Director at Phantom Works Space Systems.
His responsibilities included transitioning research and development programs into operational prototypes and objective capabilities for space and other special missions.
Prior to joining Boeing, Gary served for 27 years of active duty service with the United States Air Force, as the commander, Launch and Range Systems Wing, responsible for the execution and operation of the Evolved Expendable Launch Vehicle and Launch & Test Range programs for the USAF Space and Missile Systems Center in his final assignment.
Events

International Astronautical Congress 2019
21-25 October 2019
Washington, United States
Participation: