Hannah MILMAN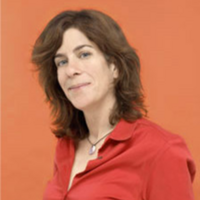 Hannah Milman is the founding craft editor of Martha Stewart Living. In her current role, she leads many of the merchandising initiatives at Martha Stewart Living Omnimedia, including Martha Stewart Crafts, Martha Stewart Living Holiday at The Home Depot, Martha Stewart Pets at PetSmart, and the Martha Stewart American Made Market on eBay.
Hannah has set the standard for MSLO's crafts stories, often reviving old crafts such as marbleizing, gold leafing and candle-making with new techniques. Hannah and all of the MSLO craft experts offer original ideas and clear how-tos. They also encourage crafters to do things their own way. Much of Hannah's work is inspired by nature. Acorns, pinecones, eggs, seashells, and cranberries are her paint and canvas. When she turns her artist's eye to one of these familiar objects, it becomes something else entirely.
A graduate of the Rhode Island School of Design, Hannah has been at MSLO since 1991. She started as the style editor at Martha Stewart Living. Over the years, she has contributed to many publishing and merchandising launches, including Martha Stewart Weddings magazine. She also co-authored with Martha Stewart The Great American Wreath Book.
Prior to joining MSLO, Hannah had her own company, providing advertising and editorial content for many major magazines. She also helped launch the Donna Karan home line and created packaging for Calvin Klein.
Events

International Astronautical Congress 2021
25-29 October 2021
Dubai, United Arab Emirates
Participation: