Hans E.W. HOFFMANN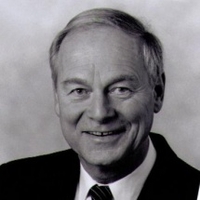 With an aeronautical engineering degree (University of Aachen, 1961) and masters (University of Wichita, Kansas, 1962), Hans Hoffmann began his career in 1961, as project manager of the "Third Stage" European ELDO-I Launcher at Weser Flugzeugbau GmbH/ERNO Raumfahrttechnik GmbH in Bremen, Germany. In 1969, he became vice-president of the European Launcher Development Organisation (ELDO), in Paris, responsible for the development of a new launcher, "EUROPA-III", and for negotiations with NASA of the European contribution to the Post Apollo Programme. Four years later, Hoffmann returned to Bremen, as Managing Director and "Spacelab" Project Director at ERNO Raumfahrttechnik GmbH/MBB-ERNO.
In 1985, he created and became managing director of Intospace, an umbrella organisation of 90 European microgravity user organisations.
Between 1989 and 1990, Hoffmann was managing director of Dornier International; marketing director of DASA, Munich, responsible for all international marketing and sales of aerospace products, and president of DASA (MBB) MSG in Bremen, in charge of UAV development, mine-hunting technology and simulator development. As President of STN-Systemtechnik Nord GmbH in Bremen between 1990-1994, Hoffmann was responsible for the German/French development of the UAV "KZO Brevel" target location – a $200M contract. This UAV is now produced by the German DOD. He also managed the German torpedo developments and was prime contractor for 10 German fast Minesweepers and 12 German Minehunters. Between 1994 and 2000, he was president of STN Atlas Elektronik GmbH in Bremen, a 5,200-employees merger of STN-Systemtechnik Nord GmbH and the former KRUPP-ATLAS ELEKTRONIK GmbH. In 1997, he also joined the Supervisory Board of STN Atlas Elektronik and became a full-time consultant for the company.
After retirement in 2000, Hoffmann has held various consultant positions. He was much involved in ORBCOMM LLC, United States, initially as CEO and President, later as consultant and member of the Board of Directors, resigning from his duties in 2012. Hoffmann's other roles and functions included: membership and vice-presidency of the Senate Committee of the German Aerospace Centre (DLR) (1988-2000); chairmanship of the CALS Committee of the German Industry Association (1990-2000); and fellowship and membership of the American Institute for Aeronautics and Astronautics and the American Astronautical Society. He was IAF Vice-President from 1992 to 1996 and has served as the Federation's Honorary Secretary since 2009. Hoffmann received several awards including the IAF Allan D. Emil Memorial Award (1986), the Engineering Science Award by the International Academy of Astronautics (1993) and the Ordre National du Merit by French President for German/French cooperation (1997). He was named "Man of the Year" by Aviation Week for the creation of Intospace in 1987.
Events