Hélène PAPPER
UN International Fund for Agricultural Development (IFAD) • Global Communications and Advocacy Director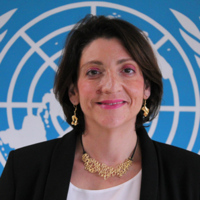 Prior to her current position in IFAD, Hélène directed the United Nations Information Center for Colombia, Ecuador and Venezuela based in Bogotá, a position she was nominated to by the United Nations Secretary General leveraging her significant leadership experience in peacekeeping operations namely in Haiti, Sudan, South Sudan and Mali. She also served with the African Development Bank to support the leadership in its transition back to its original headquarters in Cote d'Ivoire after being displaced by the conflict to Tunisia for many years.
Before joining the United Nations full-time, she worked as a journalist in conflict and post-conflict zones in countries across Eastern Europe, Africa, the Middle East, Latin America and Asia to give a voice to communities in the most vulnerable of underrepresented areas. Here she realized that, "what we need [in order] to have a peaceful world is to humanize ourselves… to have the possibility to talk about what we need to develop in a sustainable way".
During her longstanding career she has led strong advocacy programmes in the fields of gender, climate, environment, social inclusion, education, aligned with the 2030 Agenda.
Events

International Astronautical Congress 2021
25-29 October 2021
Dubai, United Arab Emirates
Participation: