Hervé DERREY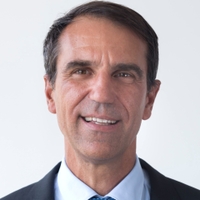 In February 2020, Hervé Derrey was appointed President and Chief Executive Officer of Thales Alenia Space and Thales Executive Vice President Space.
He was previously Senior Vice President and Chief Operating Officer of the Thales Secure Information and Communications Systems Global Business Unit.
In 2011, he was named Vice President, Strategic and Infrastructure Networks, then from 2012 to 2016 served as Vice President for Thales' global Radiocommunication Products Business Line.
From 1991 to 2011, Hervé Derrey held various management positions in France and internationally, first at Alcatel, then Alcatel Lucent, with a particular focus on mobile networks and applications, broadband internet and digital transformation.
A graduate of École Polytechnique and Telecom ParisTech, Hervé Derrey also holds a degree from the Institut des Hautes Etudes de Défense Nationale (IHEDN), the French Defense Institute.
Events

International Astronautical Congress 2021
25-29 October 2021
Dubai, United Arab Emirates
Participation: