Hiroki Matsuo
Society for Promotion of Space Sciences • President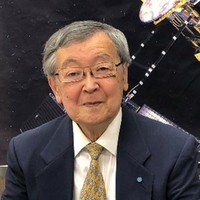 Dr. Matsuo played an instrumental role in the advancement of astronautics both in Japan and globally.
One of his early accomplishments were the development of Japanese satellite launcher. This led to the successful launch of Japan's first satellite OHSUMI by the L-4S-5 rocket. Dr. Matsuo was engaged in nearly every process in the development of the launch vehicles of ISAS such as the M-series rockets, and scientific satellites, including Japan's first scientific satellite SHINSEI and two successful Halley's Comet probes, SAKIGAKE and SUISEI, which laid the foundation for the miraculous story of the recent Hayabusa2 mission. Without Dr. Matsuo's achievements, Japan's planetary exploration, represented by the asteroid explorer HAYABUSA, the Lunar surface observer KAGUYA and the Venus climate orbiter AKATSUKI, would not have been the success that it is today.
In 2000, Dr. Matsuo became Director General of ISAS, and took strong initiative in the development of the inter-university research system. Dr. Matsuo had himself been heavily involved in human resource development, educating and providing research guidance to graduate students at the University of Tokyo since 1974. In 2003, Dr. Matsuo was appointed Commissioner and eventually Chairman of the Space Activities Commission, which oversaw JAXA's space programmes. Dr. Matsuo also devoted himself to the enhancement of the involvement of developing countries of South-East Asia in space development and utilization, by regularly chairing the Asia-Pacific Regional Space Agency Forum (APRSAF) until his retirement in 2010.
Dr. Matsuo held key international positions, including Vice President of the IAF in 1996-1998, in addition to being a long-standing member of the Federation's Honours and Awards Committee. Dr. Matsuo played a leading role in the success of the International Astronautical Congress (IAC) 2005 in Fukuoka, as General Chairperson of Local Organizing Committee. He was also Vice-President of IAA in 2001-2019, and Advisor to the International Space University in 2000-2003.
Events