Humbulani MUDAU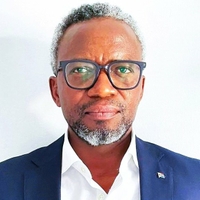 Humbulani Mudau has over 20 years of technical and management experience in Space Science and Technology, particularly in Earth Observation systems, space technology development, as well as remote sensing, and geospatial applications.
He has vast experience in inter-governmental, interagency, regional, global, and international space diplomacy while lobbying on policy issues and resource mobilisation for national and international projects. Over the years, he has led at executive level, showcasing his robust and concrete capabilities in project designing, implementing, and evaluating international projects with diverse stakeholders. In his capacity as the senior scientific representative at GEO Secretariat in Geneva, Switzerland, he conceptualised the African Group on Earth Observations (AfriGEO) initiative. Subsequently, as the Chief Director of Space Science and Technology in the South African government, he was responsible for the implementation of the Department of Science and Technology's 10-year Innovation Plan – that included the National Space Strategy and South African Earth Observation Strategy (SAEOS) – as well as the establishment of the of the South African National Space Agency (SANSA) and the National Earth Observation and Space Secretariat, among many other initiatives.
Within the Department of Science and Innovation (DSI), Mr Mudau has held various positions where he has led in research, development, and innovation (launching human capital development programmes at CPUT, UKZN and DUT), and strategic planning and technology development programmes which included the SAEOS, SumbandilaSAT mission and applications development. As the Project Manager for the very first South African national satellite build programme, he also led in designing and facilitating capacity building and awareness initiatives in the Space Science and Technology domain.
He has participated and contributed to national and international platforms on space science and technology, including the GEO, Committee on Earth Observation Satellites (CEOS), African Resource Management Constellation (ARMC), World Radio Conference (WRC), among many others. He has extensive knowledge of international developments in space science, government operations, diplomacy, protocols, priorities, public policies, administration and strategies, including an understanding of the implementation of government priorities, and Science and Technology legislative frameworks.
Events

International Astronautical Congress 2021
25-29 October 2021
Dubai, United Arab Emirates
Participation: