Jim Volp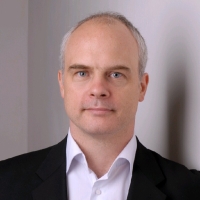 Jim Volp is a visionary, creative, hyper-active rocket scientist, passionate about saving lives, especially of children!
Jim has brought quite a dose of innovation to the IAF:
In 1998 he proposed to ESA to bring students to the IAC in Amsterdam where he was studying (Astrophysics). Subsequently, he worked with Audrey Patterson and the late Wubbo Ockels of the ESA Education Office for a full year (as a volunteer / in his spare time) to implement what has since than been an annual programme.

In 2003 Jim organised the first Space Generation Congress (and MoonMars Workshop) in advance of the IAC, inspired by the Space Generation Summit which had taken place during the World Space Congress one year before. Also the SGC has been an annual event since!

In 2006 Jim responded to the IAF invitation to propose what a Young Professionals Programme would look like. Jim took the lead and implemented the first edition in Valencia (in 2006). And yes, also the YPP has been an element of the IAC ever since!

Jim was also involved in giving shape to the first Educators programme.

Jim is and has been involved in a number of Committees, see below.
Jim is a "meta-connector" and maintains fruitful, high-level relationships. Jim has served as Governing Member of ISU, Director of Educational Relations for WSW and, most notably as NpoC, Regional Coordinator and finally co-Chair of SGAC in 2006.
Jim turned SGAC around: he actively built-up the Organisation and the Community, i.e. through the Talk mailing-list. He showed leadership and the practical added value of (true) networking: sharing info, passing on opportunities, etc. He secured the first corporate sponsor (Serco; the company he worked for!). This money was used to hire Staff for the first time which he trained up / passed his vision to. Last but not least, Jim developed important partnerships: with IAF, ESA, NASA, and UN OOSA.
Jim also supported the global development of SEDS Earth and Space Alumni, but failed with those.
Jim is a performance driven international professional who, for 20+ years, worked in various disciplines within space & non-space industries from which he gained a breadth of (life) experience and perspectives. Jim's work included the use of space science and technology, ISS and interplanetary mission operations, as well as human capital management and training for both current and future workforces.
As a sought-after consultant in education and outreach, Jim's strategic STEM educational initiatives have won him much praise within the space community. Jim has delivered STE(A)M programmes throughout Europe, in Japan, Nigeria, South Korea, Qatar & UAE working for/with among others UNESCO, IAF & ESA.
Jim has been the Founder, CEO, etc of PCs4KIDS' Education, an ambitious project to deliver free educational content to the world fit for upcycled computers. Working on a shoe-string budget, in other words, purely volunteer-driven, with little time besides the his (growing) family, turned out to be too challenging. Jim hopes he contributed to Khan Academy developing KA for Kids.
Jim is passionate about Africa. Ever since Jim visited Nigeria in 2005 as part of a UNESCO roadshow/trip he wants to help boost African space activities. Among others, he compiled a list of actors and created a LinkedIn group. Jim is supporting and joined the Board of Directors of Space in Africa, the premier source of space-related news from Africa, lead by Temidayo Oniosun.
Jim most recently initiated a highly ambitious, global, education and outreach project in honour of the 50th Anniversary of the Apollo 11 landing which should have been bigger than the International Year on Astronomy but, alas, failed (ie time ran out). Objective was to inspire (a good fraction of) 1 billion kids to take (their) education seriously, take responsibility for their lives.
Jim is currently focussing his energy on Space 4 Climate. An online design-thinking workshop for adolescents about how crucial space data is for understanding climate change. Objective is to let youth create a narrative through filmmaking and social media. In other words: an EDU programme on Filmmaking, Space & Climate Action for 10-19 year olds.
Since becoming a father, Jim felt a growing need to be professionally more active in saving lives and thus is more and more interested in applied Earth Observation c.q. Disaster Risk Reduction activities. Jim is working as Systems Engineer Manager Satellite Operations at OHB, actively supporting Operations & Business Development activities.
Events