Josef ASCHBACHER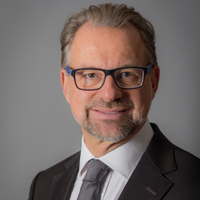 Josef Aschbacher became ESA Director General on 1 of March 2021. Prior to that he was Esa Director of Earth Observation Programmes and Head of ESRIN, ESA's centre for Earth Observation, located in Frascati (near Rome), Italy.
Born in Austria, he studied at the University of Innsbruck, graduating with a Master and a Doctoral Degree in Natural Sciences.
His professional career in ESA began in 1990 as a Young Graduate at ESA ESRIN. From 1991-93 he was seconded as ESA Representative to Southeast Asia to the Asian Institute of Technology in Bangkok, Thailand. From 1994 – 2001 he worked at the European Commission Joint Research Centre in Ispra, Italy, where he was the Scientific Assistant to the Director of the Space Applications Institute. He returned to ESA HQ (Paris) in 2001 as Programme Coordinator where he was primarily responsible for advancing Copernicus activities within ESA. In 2006 he was nominated Head of the Copernicus Space Office, where he led all activities for Copernicus within the Agency and with external partners, in particular the European Commission. In 2014, he was promoted to Head of Programme Planning and Coordination at ESRIN, where he was responsible for planning ESA's Earth Observation programmes and for formulating and implementing programmatic and strategic decisions across the Directorate. He took up duty as Director of Earth Observation Programmes on 1 July 2016.
Events