Juan DE DALMAU
Juan de Dalmau was selected President of the International Space University (ISU) and took office in September 2018. He brings a multidisciplinary background in mechanical engineering, business administration, space studies, and languages, as well as over 35 years of international management experience in engineering, operations, technology development, education and communications.
He has worked in the private sector, in university and in space agencies. He attended ISU's Space Studies Program (SSP) in 1989 thanks to a joint scholarship from the French Space Agency (CNES) and the European Space Agency (ESA).
He retired from ESA in July 2018.
Events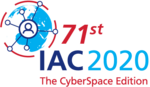 International Astronautical Congress 2020
12-14 October 2020
Cyberspace edition
Participation:

International Astronautical Congress 2019
21-25 October 2019
Washington, United States
Participation: